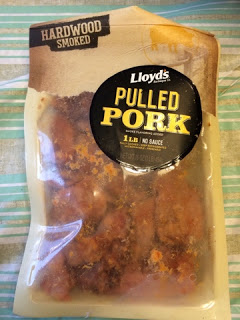 After a crazy couple days away from home we were so excited to get home. To sleep in our own bed, use our own stuff but mostly eat real food. I get so tired of eating out when I'm on the road. The hard part is I didn't have much groceries in stock. I was too tired to get back in a car and drive to the store too. I opened my fridge and was so relieved to find some Lloyds pulled pork and Hormel mashed potatoes.
I quickly made up so homemade BBQ sauce, Heated up the pork and mashed potatoes.I added some Parmesan cheese and garlic salt to the poatatoes to make it just that much yummier. Oddly I had a small salad bag that hadn't gone bad. So I added some cheese and Hormel bacon bits. In the end it was nice to have a home cooked meal after eating out so much, and it didn't take a lot of time or work either.
In the spirit of full-disclosure, I've partnered with Hormel Foods as part of the Hormel Foods Extended Family Blogger Program. Throughout the year I'll be receiving product, coupons, giveaways and promotions. However, no payment was given or expected for posting about the program, and as always, all opinions given here are fully my own.