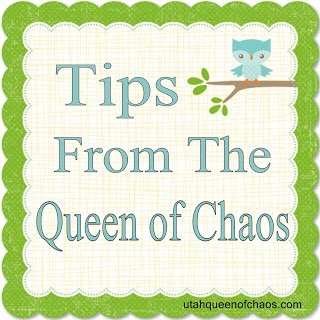 I've decided to share some of my tips and tricks on life. Sometimes they are going to be tips to save on time, money or just to save us some sanity. Ultimately I have some I have picked up along the way from friends, family, articles, or personal experiences.
Queen of Chaos's Time Savings Tips
1. One way to save time cooking is to double up. It's just as easy to cook two lbs of ground beef as it is one. Then freeze the other half cooked. Now it's ready to add to any sauce or recipe without the mess and time of cooking. Plus if you freeze it spread out on a cookie sheet, then put it in a freezer bag it won't be stuck in a big glob. This works with lots of things actually. Like:
Lasagna- Make 2 freeze 1
Soup/Chili- One for your crock pot, 1 for a freezer bag
Shredded pork/chicken/roast (for tacos, enchilada's,bbq sandwich's etc.)
Baked Ziti
- Make 1 in a pyrex dish the other in a foil one from the $1 store
Waffles/Pancakes (I put wax paper in between each one)
Vegtebles- when they go on sale I dice extra and freeze some (i.e bellpeppers)
I think you get the idea. Basically if you are taking the time to make 1, make 2 which are perfect for one of those days. (You know the kind of day I'm talking about ;)
2. Park by the cart return. I know this is a simple silly one but it helps me a lot. My husband use to drive up and down to find the closest parking spot possible. In the end I would still walk farther to return the cart. Now that I have kids I hate leaving kids in the car while I return the cart. So I purposefully park by the cart return.
3.Rubber band socks together. Anyone that read
this post
knows I don't like folding laundry. My Grandpa has been trying to get me rubber band my socks together for years! I finally did it and it does save time matching socks. Even if a few don't get rubber banded together it's that mush easier to find it's match on those few.
4. Pre- pour my breakfast protein shake. I know I can't be the only one that has had such a busy morning that lunch time rolls around before you realize you haven't eaten anything yet! So if I know I have lots to do in the morning I pour my milk, banana, and protein powder into my magic bullet cup the night before. Then when I wake up all I need to do is add 2 ice cubs and blend it super fast. Then I can drink it while I feed the kids.
5. Use ice cube trays for more than just ice. I use mine to freeze extra cream of wheat, baby food or even grated ginger. Need to use a half a lemon and don't want the other one to go bad? Squeeze the juice in an ice cube tray and freeze it. I even did sauerkraut once, who uses the whole jar before it goes bad? Now I just defrost a cube or 2 when Grandpa comes over for hot dogs.
Bonus- I know this is on every time saving list, but keep a planner. I keep a day planner and write out my meals for the week in it. Granted sometimes I move the meals around thru the week, but I make sure in advance I have everything I need. That way on busy days I know to use one of those freezer meals from above.
What time savings things do you do that are helpful?