Lucky Leprechaun Blog Swap
I decided to try
something new. I participated in a blog a swap. A what? That is what I said at first too. Someone hosts a blog swap and picks something to swap, in this case a book and a polish. Then we are given a partner who also has a blog to swap with. We have guidelines and dealines and in the end I was VERY happy I did it.
Not only did I get cool new stuff I got the oppurtunity to be more aware of other things out there. For instance I am excited to try a new auther by the name of Mary Kay Andrews who I am excited to try out her "Savannah" books. I almost won a signed copy of her book to give to my swap partner but the seller would only ship media mail and I was afarid I wouldn't get it to my partner fast enough. In the end I sent her One Breath Away by Heather Gudenkauf (Which I also added to my Goodreads to read list.)
This current nail craze isn't isn't something I have gotten in to. Before I got married and started a family I had my nails done regularly but haven't been able to keep up on in a while. I was suprised how happy I was about this in the end. I picked out a beutiful light purple polish for my partner. I must have liked it so much that I keep looking for my light purple polish only to remember I don't have one.
My blog partner went all out with me, I got 4 polish's! I asked to not get pink because Yesenia loves to sit and put it on all at once. I first put on this color which I think will be my favorite of them all! After applying this I started to get back into having cute colored nails again. Maybe it's my new gift, or the Spring in the air, who knows?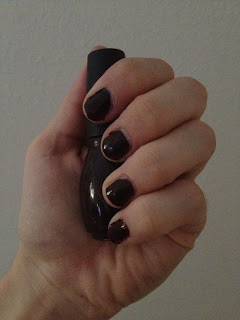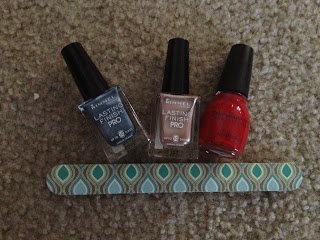 These were the other colors I got, all so fun. I also was extra special to get a lip gloss, which oddly I despratley needed a new one. Then I got one of the books I have been wanting to read! Ally Condie has this series that I have been intrigued by and have heard really good things about. It skipped my to read book shelf and went right to my nightstand. As soon as I finish my book club book it's at the top of the list!