Recently I learned about a great new cleaning company called Norwex. I was blown away by what they can do. They have so many great products I thought I would list my favorites. Here are some of them:

The Enviro Cloth-
I just got my Enviro Cloth and have been using it non stop! It is amazing. It is one of the best microfiber cloths I have ever used. It's strands are 1/200th the size of a strand of human hair, which allows it to pick up so much more than a normal cloth. The part that makes them more special is the microsilver imbedded in the cloth. This allows it to have a self purification process eliminating odors and mold/mildew growth. I watched my consultant put raw kitchen on the counter and show the bacteria on a swab. Then she rinsed her Enviro cloth with water, wiped it up and the counter was clean!!! Then you just rinse out the cloth and hang it up to air dry. Who would have thought a cloth and water can clean raw chicken?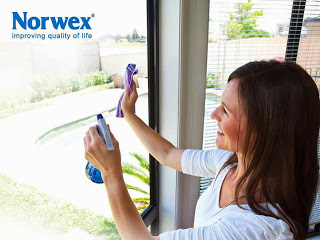 The Window Cloth-
How much money would you save if you never needed window cleaner again? Simply spray windows, mirrors, or any shiny surface with just water and wipe it with a dry window cloth. It's that easy! Now my kids won't waste half a bottle of Windex on 1 window. If it's really dirty or grimy use an Enviro cloth first then the window cloth. Voilà. it's that easy.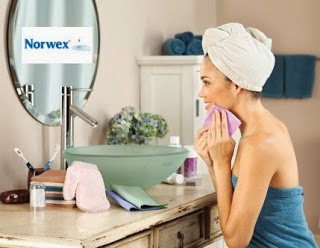 Makeup Remover Cloth-
How fabulous would it be to never pay for a makeup remover again too? With the makeup remover cloth, again, all you need is the cloth and water. Yes, that include cleaning off your mascara too. In the past I have even owned 2 different kinds of makeup removers one for my face and one for eye make up, now I don't need either.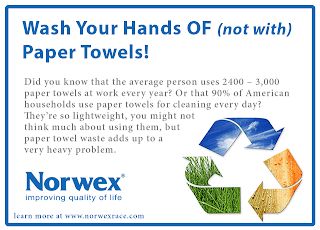 Let's not forget how environmentally friendly all their products are! I think we have been trained to think that lemon, pine or other scents mean something is clean. In reality clean has no smell. Clean is just clean.
Those are my 3 most favorites so far. I have purchased there toothbrush which is suppose to help get rid of more bacteria than other toothbrushes. My consultants has had clients that have had less canker sores since the switch, so time will tell if it helps me or not, I'll pay just about anything to help reduce and lessen my canker sore outbreaks. She has had some people that have had less acne and eczema using the body cloths as well. I also want to get the mitt that attracts dust better than anything else I have seen. That way my kids can do a better dusting job. Just to add a few things I am intrigues about.
To purchase your own Norwex cloths or other products click
here
. Don't be shy, tell her I sent you. Or you can also send her a message to be added to her monthly mailing list for deals and specials.
Tricia has donated an Enviro Cloth for a giveaway! Then you can test it out for yourself!! Fill out the rafflecopter below to enter. When entering your comment to enter to win what product intrigues you the most? Do you already use Norwex products? Then tell me which product you use and why you love it! Giveaway closes 12/12/13 at 12:00 AM.
This giveaway opens 12/4/2013 at 12:00 AM and closes 12/12/13 at 12:00 AM. Open to the United States only. Winner will be notified within 48 hours. Winner must respond within 48 hours or a new winner will be chosen.