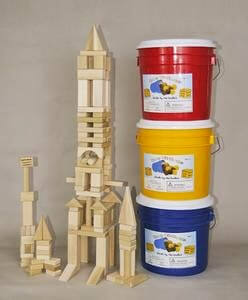 I was thrilled when
Back to Blocks
asked me to do a review for them. There are a few things I thing every kids should have experienced in their childhood. Here are a few things that we all remember from growing up that we love to share with our kids.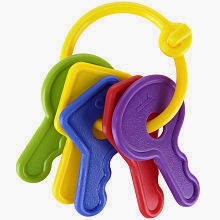 As a baby who didn't have one of those colorful baby teething rings? Or these set of keys with different shapes and colors? This is a baby must have. Easy for little fists to grasp, but not too noisy either.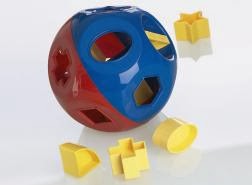 Another one is a shape sorter. It doesn't have to be like the one I remember having as a child, any shape sorter will do. This is a fun toy I often find my older kids still playing with.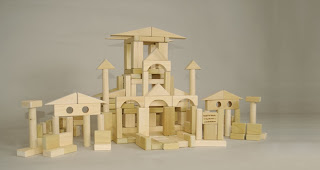 Last but not least, is a set of blocks. I remember sitting forever building, tearing down and re building again. Blocks have an infinite amount of possibilities. The set I received from Back to Blocks are your good ol' plain and smooth wooden blocks. According to
this
study, that's why kids find them so appealing. The countless possibilities.
"Wooden blocks naturally appeal to young
children because they feel good to the touch, are symmetrical, and invite
open-ended explorations" -TeachingStudies.com
There are countless studies on how blocks can help a child in their emotional, cognitive, and physical development.
My one year old is currently working on building her fine motor skills. Just wrapping her hands around the different shapes help build her little muscles. I also love the social aspect of blocks as well. My 2 year old is learning to better communicate more when she plays with the blocks. Asking for help, sharing, or communicating what she wants to build are all ways to improve social and verbal communication. My 5 year old daughter loves to let the blocks be the foundation of her imagination. She loves to build a castle and put her princess toys in it. My oldest loves to build more elaborate structures. He is learning and having a better understanding of symmetry, physics and patterns with out even realizing it.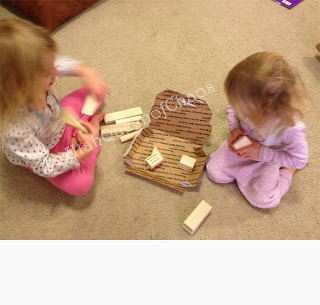 The first thing my 2 year old said when I opened the package was, "For me?" Building and knocking down is one of her favorite things. She was so excited to see the blocks. Instantly all my kids were like magnets to the blocks. They loved taking turns building together.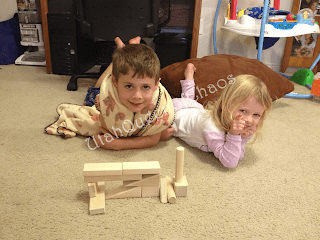 One game the kids liked playing was 1 piece at a time. Similar to progressive story we sit in a circle each taking a turn only adding 1 piece at a time. Then the end structure is a complete surprise and combination of all our imaginations. Here is a quick video of 2 of my kids taking turns adding to the common structure. The picture above is the end result.
The basic blocks are made from poplar. A hard wood that's not as expensive as maple. You can however purchase either beech or maple blocks, they are just more expensive. They also come with a guarantee. If your block chips or splinter, they will replace it. They come in a nice bucket, which is great for storage. I also love that you can buy just
certain blocks
. Sometimes my kids always fight over the columns and the arches, well you can purchase extra of just those.
Having a nice block set can last a long time. My kids still play with the same set I did when they are at Grandma's house. It's hard to find good quality toys that will last generations anymore. If you want quality blocks, that will last a long time that I suggest Back to Blocks.
Back to Blocks
is also donating a 24 piece set as a giveaway. Go to their website
here
and look at some of their different sets. Then comment on which set you like and use the rafflecopter below to enter.
a Rafflecopter giveaway
This giveaway opens 12/14/2013 at 12:00 AM and closes 12/20/13 at 12:00 AM. Open to the United States only. Winner will be notified within 48 hours. Winner must respond within 48 hours or a new winner will be chosen.
Don't forget my other giveaway I'm co hosting. Check it out
here
.