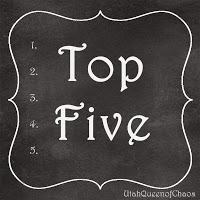 I like to watch movies, especially with my family. There are a few movies that I love to watch every year right before Christmas. Here is my list of family friendly movies that I can't go a Christmas year without watching.
5. Jingle All The Way
I remember when this movie first came out, and it still cracks me up. I've watched it with the kids a few years now. It takes a few minutes for them to get into it, It's not till the Dad's start fighting that they really pay attention. It's really cheesy but perfect for a funny family movie night.
4. A Muppet Christmas Carol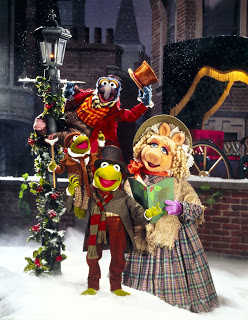 I love watching the Muppets, ever since I was a little girl watching it with my dad. I miss watching one Muppet movie that they did a long time ago where the meet the fraggles from fraggle rock. Anyone remember that? Or know where to get one? A Muppet Christmas Carol, however, is one that we watch on a Sunday leading up to Christmas because of it's good message. I love the music and the classic Muppet sarcastic jokes while my kids love the characters and the silliness. It's the perfect combination to keep everyone happy.
3. The Grinch Who Stole Christmas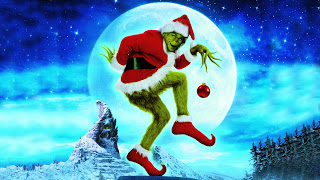 Which one you ask? Well usually both. When I watch one it makes me want to watch the other. I do love the Jim Carrey version though. When I was in high school I use to watch this almost every Sunday and then take a nap. Kind of an odd routine, but that's what I did. I really enjoy Jim Carrey's portrayal of the Grinch, the costumes and the way they make the Dr. Seuss classic come to life.
2. Elf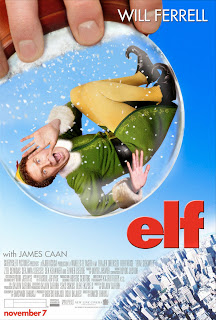 This is first year I remember actually sitting down and watching it with my kids. They loved it. In the past I have just watched it with my husband. It was such a good and fun movie to watch as a family. I really wanted something not cartoony, but would still keep my kids attention. It was perfect. I love Zoey Deschanel and she also happens to sing my favorite Christmas song in this as well. In the future I would love to go see the musical.
1. A Christmas Story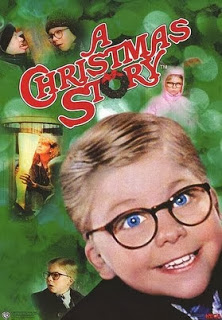 This is my all time favorite Christmas movie! For YEARS I watched it at least once during TBS's 24 hours of The Christmas Story. A few years ago when we were living in Oklahoma we didn't have cable or any way of watching it. I was really sad to be missing out on my favorite show. Then I found it on DVD and it made my day. It was like a little piece of home even though I was far away and missing my traditions with my family.
Just talking to people about this movie cracks me up and makes me want to watch it. I love the grumpy Santa, the little brother who can't put his arms down, and the many dreams that Ralphie has of himself in the future. If you have never seen it before don't watch it with me, I laugh so loud throughout it you'll never know what's going on.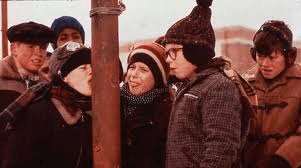 Bonus: Favorite Not Family Friendly Movie:
The Family Stone
This is a movie I do not recommend with young kids. I know this movie didn't get great reviews, but I love it. I love sarcasm and realistic awkward family situations that may or may not have happened to me. I know in real life we wouldn't act or react like they do in TV, but that's what makes it funny. Like the scene where the girlfriend doesn't quite know whether to join the family picture or not. Realistically people with common sense either offer to take the picture to avoid the awkwardness or the boyfriend makes a big deal about getting in the picture. Now that's if you have common sense. We should all know by now that not everyone in this world has common sense. So we get this funny uncomfortable scene where you want to laugh and feel bad for the character at the same time.
The quirky brother played by Luke Wilson is one of my favorite characters. He just marches to the beat of his own drum, and I love it. It reminds me not only of myself, but my baby brother who is currently serving a mission for our church in El Salvador. Ok, so he reminds me of
my brother
minus the drinking and the pot.
I also love Rachel McAdams. She plays that one person that no matter how hard you try to be friendly and nice to she just will never warm up to you. So you get to a point where you say, "Fine I'll just be mean to you then!" In the end you end up best buddies and think, "Why did I try so hard in the first place, I should have just been mean from day 1, It would have saved so much time in the end."
This show is bursting with characters with very dynamic personalities. It's nice when all the personalities clash and get together when it's not real life. Then instead of being in the drama you can just laugh at it.
I will warn you that right before the end (and the funniest climax ever) is one of those scenes that can be awkward if you are watching it with your sweet granny. You know the ones I'm talking about. Then you get to my favorite part. The realistic family fighting, chasing, and rolling with laughter part. Maybe a family wrestling match doesn't break out in your home, but that's probably cause you have all girls. I just laugh, and laugh till I can't breath every time. I recommend getting your hands on a copy for some fun cuddle time with you special honey bunny.
So those are some of my favorite Christmas movies. I posted them with enough time to watch 1 every day till Christmas. Or make a top 5 list of your own. What movies can't you go the holidays with out? I would love to know. Comment or tweet me your favorites.