I just got done with hosting a
Norwex
show. It was a lot of fun and also very informative. I did a fun hot chocolate bar which was really yummy. Here are a few things that stood out to me from the Norwex consultant
Tricia
, and my printable hot chocolate bar tags.
The first thing was the label on Lysol wipes. I know have used these a lot in the past. I have even given them to my kids to use to clean stuff. Never have I ever actually read the instructions before. I never noticed the not to be used by children, or keep out of reach of children before. I also didn't notice that in order to it to actually disinfect it has to stay wet for 10 minutes. To sanitize it's 30 seconds (I just pulled that off
Lysols website
) and to disinfect (especially the big ones like salmonella and H1N1) it has to remain wet for 10 minutes. Then it says to "rinse all food contact surfaces and toys with water after use." Why would they say to rinse it with water? Well to clean off the chemicals left over before you eat them, putting it bluntly. I found a Lysol container in the way back of my daughters bathroom that was dried out, but sure enough, that's what it said. Here is the picture I just took: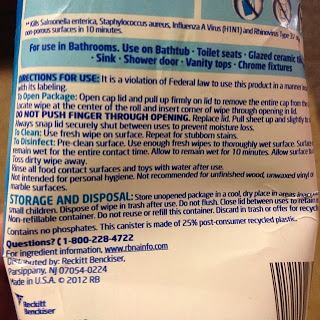 That just made their
enviro cloth
shine that much greater to me. I tried to find a good video on how well it works, and this is the best one I have found.
She also gave us a list of products that her niece's oncologist gave her of products not to use. I was amazed at the list. I'll have to get a copy of it to share. My 3 favorite products are the enviro cloth, the window cloth, and the dust mitt. You can buy all 3 for just under $50.00. These products are amazing. You can look up more about them
here
.
Only 24 hours left in my giveaway for and enviro cloth. Go check it out
here
.
I also did a hot chocolate party while I hosted the Norwex party. I felt really crafty and special. Click on the picture to download the tags I created for the hot chocolate bar. My only suggestion is printing it smaller, maybe 2 to a page. I thought mine came out a little big.