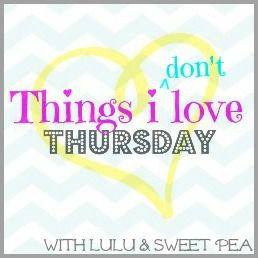 Lulu & Sweet Pea
It's Thursday again and I wonder, "Can I even think of something I don't love enough to write about?" As I walk to my laptop I step into a puddle of spilled water, and realize I now have to deal with my biggest pet peeve of all. It's not spills that don't get cleaned up, it's wet socks. I HATE WET SOCKS! It weirds me out. I am not a fan of shoes but my feet get cold so I like to run around in socks. Especially fun socks, like purple fuzzy ones. I know to be careful in the bathroom and around the front door when it's wet outside, but still with 4 kids my poor innocent socks still find some way to make me scream and want to cry.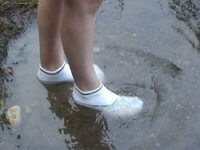 Yuck, this picture alone makes me shudder.
Next I hate that my baby is growing! She has already out grown some of my favorite outfits. What do I do? She is 4 months old and is growing faster and bigger than any of my other babies. She is already more than half my 2 year old's weight! Normally I encourage growing in my kids, by fattening them up if possible. My 7 year wears 4-5 Toddler clothes he is so small, so the idea of my youngest growing faster than the rest freaks me out. So today I hate my baby growing up to fast!
Don't forget to check out Lulu & Sweet pea's blog for more things other people don't love.
Read my last Thursday's post
here.