A long time ago I found a recipe on pinterest, that my family enjoyed. The best part was that it had quinoa in it which has lots of proetin. Plus it's a nice meatless dish which I try to do at least twice a week. When I went to make it a second time I couldn't find my original recipe. So after a few different attempts here is my final recipe of what we call Mexican Haystacks.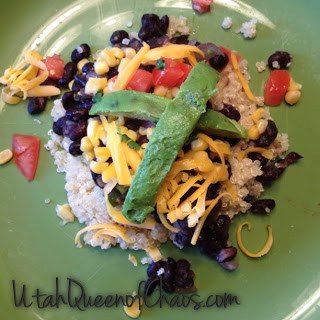 Mexican Haystacks
2 Cups Quinoa
1/4 C Onion Diced
Garlic 1-2 Cloves
2 Cans of Black Beans
1/4 C Chopped Cilantro
Chili powder
Cumin
Salt
Lime Juice

Rinse the quinoa and add it to approx 4 cups of water. Bring to a boil, then reduce the heat and let simmer till cooked. Or follow the cooking instructions on the box. It's done when the quinoa has absorbed the water and is tender. I like to add lots of water and drain the extra once cooked. I prefer that over burnt.
Then add the onion to some oil in a pan and cook till till softened. Then I use my handy garlic press and add the garlic. After 2-3 minutes I add the black beans and 1/2 cup of water (or chicken stock.) Usually most recipes say to rinse their beans- I don't. I may drain some of the liquid on the top, but I just throw the whole thing in there. Then I add the spices and chopped cilantro. I like it spicy and I like cumin so I probably do a lot. You probably only need 1/4 -1/2 tsp. Let the beans simmer for approx 15 minutes and add some lime juice.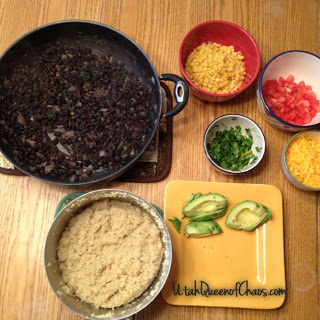 Then we layer our bowls with the quinoa, then the black bean mixture, and then any of the following:
Corn
Lettuce
Diced Tomatoes
Salsa or Pico De Gayo
Shredded Cheese
Sour Cream (or plain Greek yogurt works)
More Cilantro
Avocado
Guacamole
Green Onions
Enjoy this yummy healthy family favorite. Keep in mind Cinco De Mayo is right around the corner.