It's that time again. Time to share your wacky moment with others. Have your kids said something that made you chuckle? Or a moment you decided to fly by the seat of your pants? I would LOVE to hear it. Write a blog post about your wacky moment and link up here.
Today I want to share some of my favorite kid's sayings. Some I had to look up from my journal in the past year. Ultimatley my top favorites:
Conversation between my 7 year old son and 4 year old Daughter:
Daughter: "Let's play house."
Son: "Ok."
D: "I'm Barbie and the pink shoes."
S: "OK, I'm Venom then."
Later he changed it to Ben 10, quite the game of house, I assure you.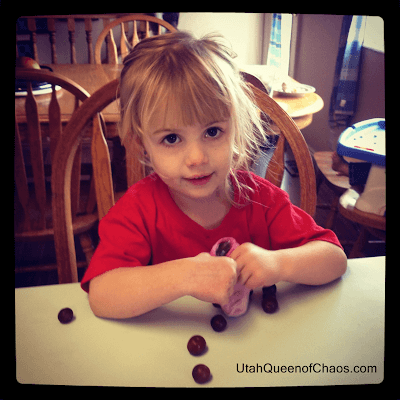 Yesenia asked me one morning, "Mom, can I have some grapes in a sock?"
I simply asked, "A clean sock or a dirty one?"
After thinking about it she obvousley asked for a clean one. I thought why not? To this day my kids like to use our miss match socks to eat grapes out of them.
This one wasn't my kid but has stuck with me. During church while I was teaching the 4 year olds about how we are thankful for our hands I had a little girl raise her hand. "Yes" I ask. She randomley responds, "My Grandpas has fish in his freezer." Ok then.
This reminds me of when my husband was helping with the 4 year olds at church. My son was one of the kids in the class. My husband was going to go around the room and ask each kid the same question, starting with my son. He asks, "Why do we celebrate Easter?" My son quickly shouts, "Beacuse Jesus was resurrected, YES, Next level!" I thnk he may play a little too many video games.
Grab my button or follow me via GFC and link up your Wacky Wednesday post directly.