What a busy and fun weekend we had! Friday was a tight squeeze do to a last minute doctor appointment, so we had a quick frozen pizza for dinner. Then we met Grandpa, Grandma and Uncle Jacob at Kadan's Art show. He is very talented and we are fortunate enough to have someone local who teaches art from her home. He loves it!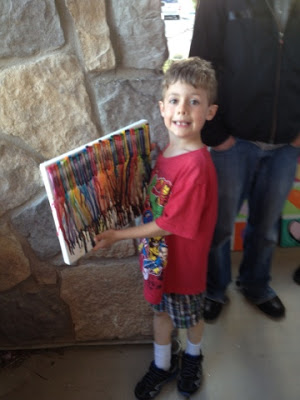 Then we all gathered at our house for some coloring and dyeing eggs.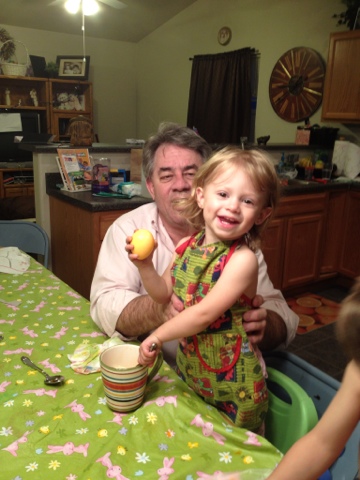 One of my favorite thing to do is wrap rubber bands around the egg before soaking them in a dye. Then after it tries you can take them off and you get this fun looking egg.
We also do things a little backwards in our house. We have made a special request for the Easter bunny to come on that Saturday instead of Sunday. That way we can focus on the real meaning of Easter on Sunday and the fun things the day before. Plus this year the bunny was super mischievous. He tied a different color yarn to each kids basket to help them find it. Getting water in the middle of the night was quite the work out, I assure you.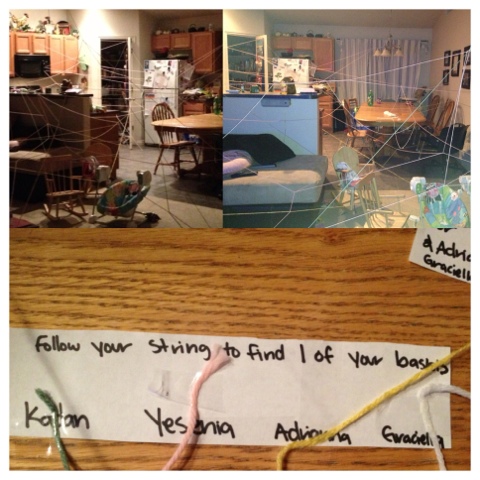 Saturday morning was spent searching for eggs, eating too much chocolate and following the crazy mess to their baskets. The kids were surely spoiled this year.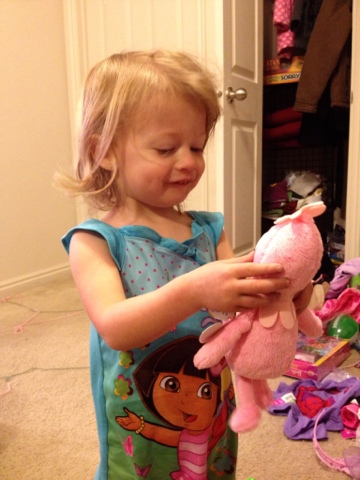 I know I keep saying how wonderful my neighborhood is, here is just one more example. Instead of the madness at other local egg hunts we did one in our own neighborhood. We donated 10 eggs for each kid who wanted to participate, then went looking down one of our streets for 10 eggs. The kids loved it and ended up with some goodies, money being their favorite.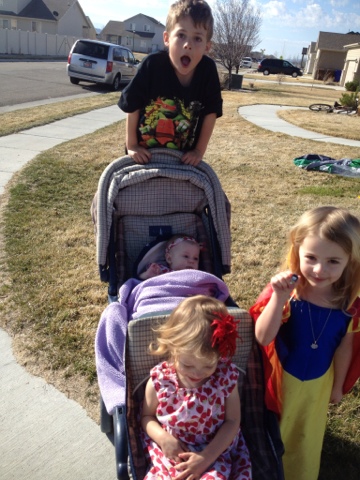 Then off to Grandma's house. We were celebrating both Easter and 2 of my kids birthdays. We had taco salad, cake, lots of deviled eggs and good company.
We did end up doing an Easter pinata, even though it wasn't in the plans. Usually my mom has such a large yard we do an egg hunt in her back yard. We thought it would be fun to get a puzzle and put the pieces in each egg instead of candy. Although the puzzle pieces we bought were slightly too big for our eggs. Oops. Our solution was a pinata filled with candy instead. What's a little family fun with out a pinata? My family loves pinatas, maybe because were Mexican?!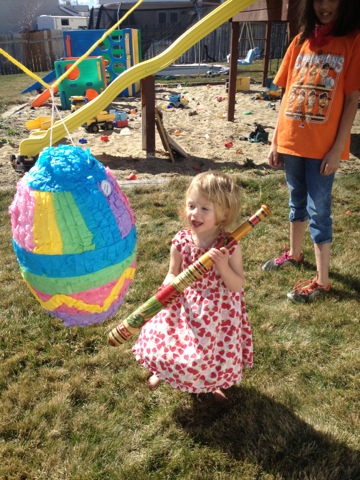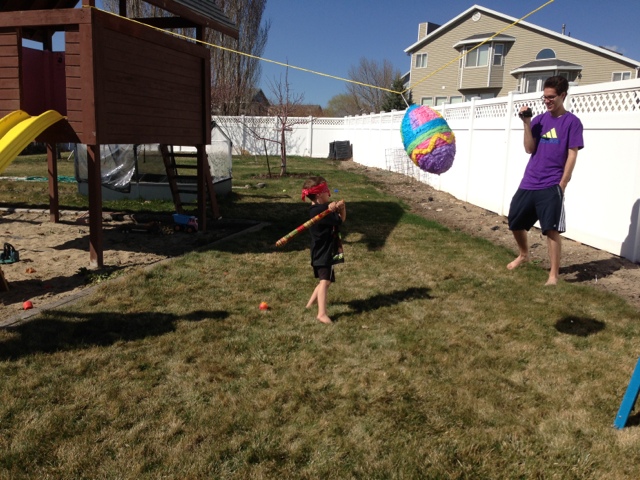 Then Sunday morning was low key as we got ready, besides me being extremely nervous because I was asked to sing in a trio in church. The kids Easter outfits for church I bought at the end of last summer when I was still pregnant. I have wanted to go to Hawaii for a long time so they have fun luau and pineapple outfits from Gymboree. The pineapple ones are fun because those that know my Dad knows how much he loves a good pineapple.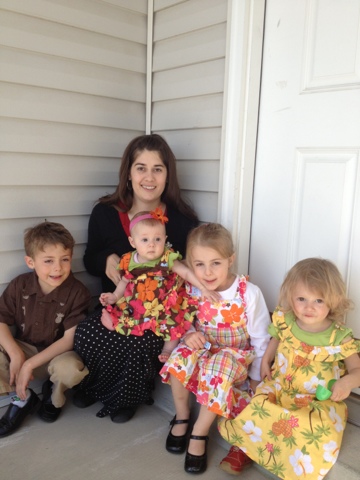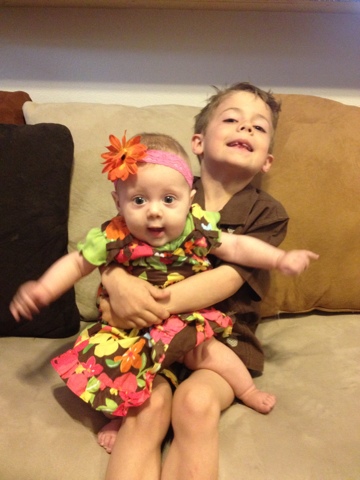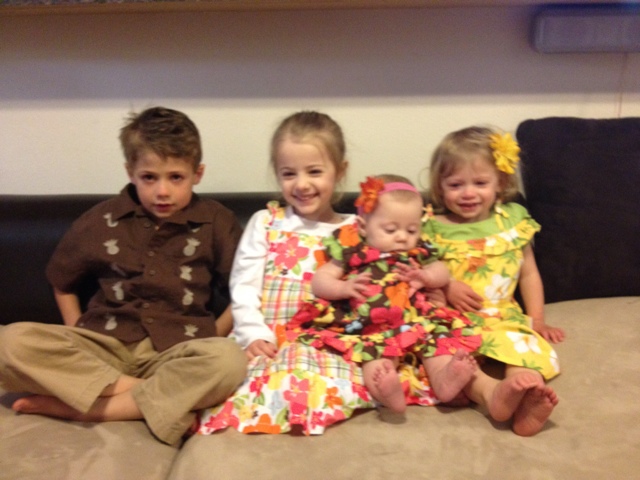 Then for Easter dinner I invited my parents over to join us. My kids love when we break out the china and have a "fancy" dinner. We had a yummy roast with lots of vegetables. Everyone in my family, kids included, loved fruits and vegetables. As you can tell that was mostly all our side dishes. A nice laid back dinner, with good conversations and company was the perfect end to a long week.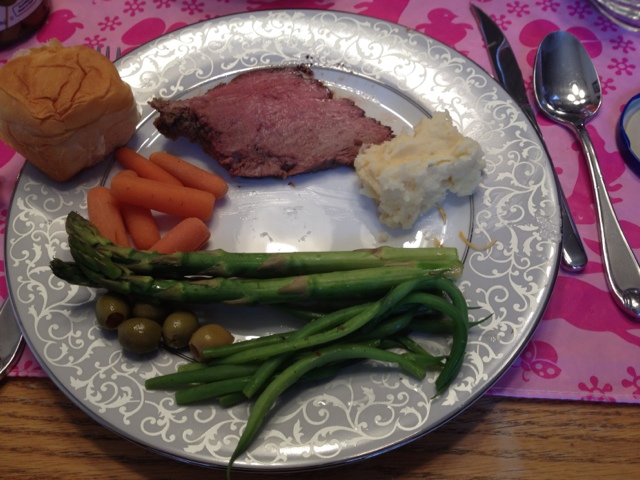 Let me know what you did this Easter weekend. I love hearing about other people's traditions, old or new. Either leave me a comment or tweet me.