Today I made my husbands favorite fish recipe and thought I would share.
Let me start out by saying when my husband and I first got married, he did not like fish very much. He only ate Halibut and fish taco's from Wahoo's. To get my husband to eat salmon I started with this recipe. Now he will eat salmon prepared just about any way. I adapted and combined this recipe from an old pampered chef recipe with another I got offline. I have included the basic recipe with some variations I used depending on what's in my pantry. I am one of those people who rarley measure and wing it quite often. Especially with recipes I cook often like this one.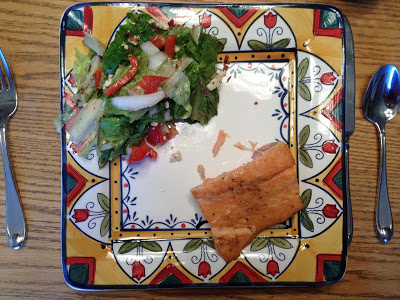 Husband's Favorite Salmon
1/2 Cup of Apple Cider Vinegar
1/2 Cup Honey
Salt & Pepper
Salmon
Olive Oil
Drizzle some oil on the salmon and add some salt & pepper. Then I usually reduce the vinegar by about half. I micorwave it for a minute or two usually. Then whisk in the honey, and micorwave it another minute. Keep an eye on it , cause it's a mess if it overflows or over cooks. (If it's too stinky for you then you can avoid heating it up if you want.)
Drizzle 1/3 -1/2 of it on the salmon. Bake or broil the salmon till salmon is cooked and flakes easily with a fork. Then add the rest of the mixture on the salmon. if you have some left over you can add salt, pepper, and olive oil and make a dressing with is as well.
Some variations I have tried and are yummy. Sometimes I use a bbq seasoning or chipotle seasoning or rub on the salmon. I have added ginger and dried mustard to the cider/honey mixture. I have also added dijon mustard with and with out the ginger. If you don't reduce it you can use a white wine or apple juice too.
I hope that makes sense, because like I said I don't always measure and I mix it up from time to time.
In the picture I have an easy salad as well. I got this recipe from
Relish
. I won a free membership and am trying it out. This was one of the first recipes I tried from it.
Balsamic Feta and Bacon Salad
| | |
| --- | --- |
| 4 | bacon slices |
| 4 | cups mixed baby greens |
| 1/2 | red onion , sliced |
| 1 | red bell pepper , cored and sliced |
| 1/4 | cup prepared balsamic vinaigrette dressing |
| 1/4 | cup crumbled feta cheese |
| 1/4 | cup chopped walnuts |


Cook the bacon until crisp. Remove to a paper towel-lined plate, let cool, and crumble.
Combine the greens, onion and red pepper in a salad bowl and toss with enough dressing to coat. Top greens with feta, nuts and bacon crumbles and serve.













Happy cooking everyone!