Here are some of the fun things we did to celebrate Earth Day this week.
We made recycled bird feeders. When we were
moving around
a lot we didn't have a lot of room for toys. To replace that we did lots of coloring and crafts. This was one of our favorites when we lived in
Louisville
, because of all the beautiful cardinals.
You take this kind of carton, usually use d for whipping cream, half and half or milk. Then you cut out a square.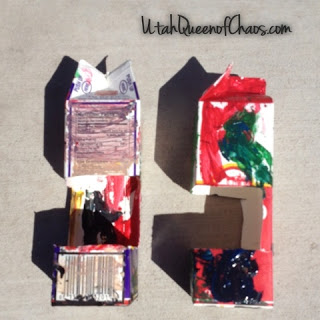 The kids paint them, we add bird seeds and hang them. Really easy, even for the non crafty type like me!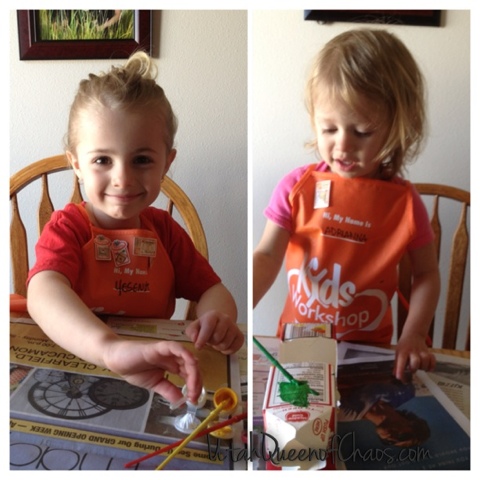 Another thing I have done every year for Earth Day is make what we call Earth Day Bars. I got this recipe out of Family Fun magazine when Kadan was younger, and I have hauled it around with me.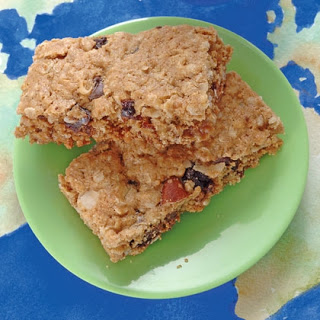 What you'll need
1 1/2 cups baking mix (I use Bisquick)

1 1/2 cups instant oats

1 cup packed brown sugar

1/2 cup softened butter

1 egg

1/2 teaspoon cinnamon

ADD-INS:

Coconut flakes

Chocolate chips

Chopped dried pineapple

Raisins

Chopped Brazil nuts
How to make it
Heat the oven to 350 degrees. In a large mixing bowl, combine the baking mix, oats, brown sugar, butter, egg, and cinnamon.

Stir the mix with a wooden spoon until you have a crumbly dough. Next, customize your international treats by folding in 1 cup total of the add-ins of your choice. (Mine was still too dry so I added an extra egg.)

Press the dough into an ungreased 9- by 13-inch pan and bake for 17 minutes or until the center is set and the bars are slightly brown. Allow them to cool for 10 minutes before cutting. Makes 1-1/2 dozen 2- by 3-inch bars.
I used raisins, chocolate chips and coconut for my add-ins this time. Here is some more information on the add-in ingredients.
Raisins:
California, the only place in the United States that harvests the grapes used to make raisins, is the world's No. 1 supplier.
Pineapple:
Thailand produces approximately 20 percent of the world's pineapple crop, surpassing the Hawaiian Islands.
Brazil nuts:
The complex growing environment this tree crop requires prevents it from being grown on farms. Instead, it's harvested directly from the rain forests of Brazil, Peru, and other South American countries.
Chocolate:
Africa's Ivory Coast is the largest producer of cocoa beans, the ingredient that gives chocolate its unique, irresistible flavor.
Coconut:
The Philippines and Indonesia are the world's leading producers of copra, or coconut meat.
I
planned
on making these earth crayons, but didn't get around to it. For Christmas last year we made homemade crayons and gave them to the kids friends as gifts with coloring books. There is always next year.
Follow">http://www.bloglovin.com/blog/5100715/?claim=z9pne82bqsy">Follow
my blog with Bloglovin