I have to say how much I love the Wholly Guacamole cups. I recently went back to work part time and this last week they have come in so handy.
One day at work I needed a healthy pick me up and this creamy cup of goodness and some chips hit the spot! They come in this cute 100 Calorie cups now too. I keep a few at the office and a few in my freezer just in case I have a guacamole craving (which is a lot ;) If you click
this
link they even have a coupon right now you can print from home.
One night we had tacos for dinner and it was a great compliment to them. I used turkey meat for the taco meet, diced some tomatoes, cut up some lettuce and shredded some cheese. Then I just threw the corn tortillas on the griddle and added my Wholly Guacamole. It was a great healthy family meal.
Then the next day for lunch I had some taquitos in the freezer and this made that quick meal that much better. The possibilities for this Wholly Guacamole cups are endless!
Then we had one of my favorites last night- nachos! I took the leftover taco meat and toppings and opened a jar of
Chi Chi's Salsa Con Queso
and Voila- yummy quick nachos. This is great cause no matter what you have on hand it makes a great meal. As long as you have chips and the queso you can add, green onions, beans, lettuce, tomatoes, avocado, guacamole, meat, sour cream, the list goes on and on. I always keep a jar in my pantry for when I need a quick meal. So next time you are at the store grab a jar or 2 of Chi Chi's Salsa Con Queso for a fun family build your own nacho night!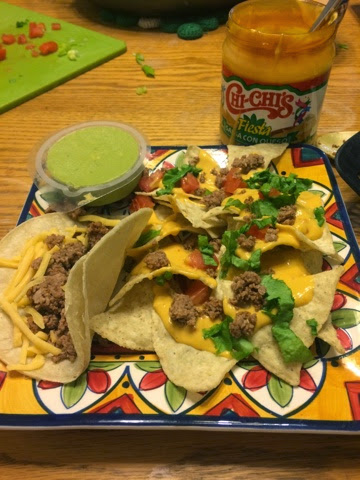 In

the spirit of full-disclosure, I've partnered with Hormel Foods as part of the Hormel Foods Extended Family Blogger Program. Throughout the year I'll be receiving product, coupons, giveaways and promotions. However, no payment was given or expected for posting about the program, and as always, all opinions given here are fully my own.