Now that school is back in session its time to get on some better schedules and routines. It also means busier days. That's why I like recipes that everyone in my family likes that are quick to make, filling and use things I almost always have on hand. This is one of my favorites because I often throw in whatever left over proteins I have left over from prior meals. My favorite is chicken and Hormel pepperoni. Sometimes we eat it just plain, or sprinkle it with real bacon crumbles. Today I tried it with Hormels cubed boneless ham, and it was so good. My husband said he likes it better than when I do pepperoni. This ham is great to have around because I can throw it on a salad real quick, or my girls will snack on it, sometimes they even dip it in ketchup and eat it for part of their lunch.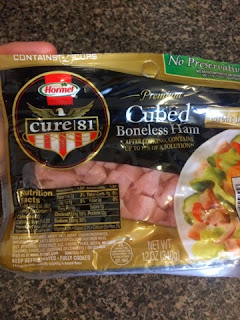 Here is my pasta recipe. Please remember I don't usually measure and sometimes just add random things depending on my mood or what I have. So I tried really hard to pay attention to how I actually made it.
Bowtie Pasta Dinner
Bouillon cubes
Bowtie Pasta
Heavy Cream (or half and half)
Italian seasoning
Corn Starch
Shredded Italian Cheese or Parmesan and mozzarella cheese.
Optional: ham, chicken cooked and cut, cut up pepperoni, etc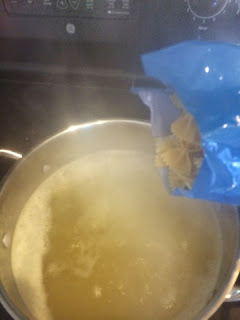 First I boil a pot off water with 1-2 chicken bullion cubes. Then when its boiling I add bowtie pasta. Obviously you could use any pasta, but this one seems to be a family favorite.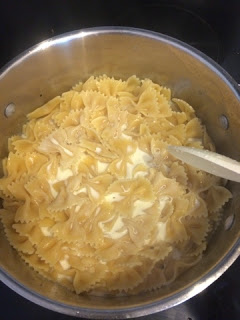 Then when the pasta is about 75% cooked I drain most of the liquid and add a pint (or so) of heavy cream. I have used half and half before, but heavy cream seems to be best. At this point I lower the stove to medium and stir it often so the milk doesn't coddle. Also add 1-2 T of Italian seasoning.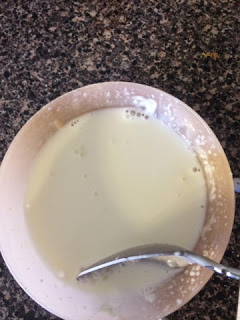 Then I take 2 Tablespoons of corn starch and mix it in a separate bowl of water. This makes it smooth, versus pouring it straight in and getting all lumpy. Then I add this and my choice protein to the mixture. This time I did Hormels cubed ham. Stir frequently till the pasta has absorbed most of the liquid and has thickened.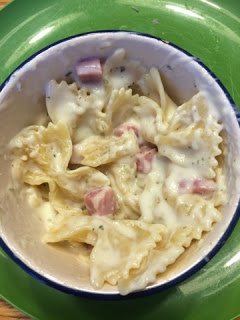 Once you remove it from the heat add a bag of Italian shredded cheese, or a mixture of parmesan and mozzarella cheese. This is one of the few meals all 6 people in my family enjoy, so we make it often. Enjoy!
In
the spirit of full-disclosure, I've partnered with Hormel Foods as part of the Hormel Foods Extended Family Blogger Program. Throughout the year I'll be receiving product, coupons, giveaways and promotions. However, no payment was given or expected for posting about the program, and as always, all opinions given here are fully my own