Right now cool nails are very popular. I myself wasn't big into doing my nails till I received some polish from a blog swap. I started wondering where do I even start? Most things I have come across are way over my head, I need a manicures how to for dummies. I asked my long time friend and blogger Jess. She's the blogger behind
http://www.yourstrulydear. blogspot.com/
.
I am thrilled to write a guest post for Jennifer! I was honored that she even asked me about this topic, as it is a huge hobby of mine (but often goes unnoticed, haha). So hopefully from this post you can get a basic idea of nail care, which will result in a better overall manicure when you do it yourself!
The first essential step of nail care is moisturizing. Especially for your cuticles! Your cuticles do so much work for you as far as protecting your entire nail system [you know, like a respiratory system...except it's everything to do with your nails...ok I totally made that up but I think they should add it to webmd ;)], so you should show them some love. Right now my go to cuticle moisturizer is Lemony Flutter by Lush. While this little jar will last you a while, it's a bit more on the pricey side. Burt's Bee's Lemon Butter Cuticle Cream is another great one, and is more affordable. But even just using a basic lotion or salve and rubbing it into your cuticles will help them out.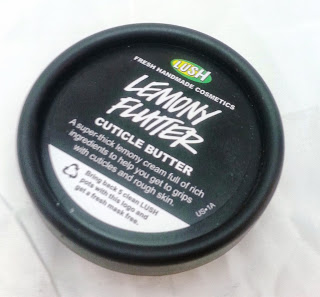 Lemony Flutter Cuticle Butter, by Lush
The first thing I do before each manicure is moisturize those cuticles up, and then push them back. I have a metal cuticle pusher, but you can also use an orange stick. These can be found at any grocery/drug store. One thing I've found since furthering my hobby with nail art is that you should NOT cut your cuticles. [Guilty, I totally used to do this]. This actually opens up that protective barrier and makes your nail system susceptible to bacteria/fungus etc.
Ain't nobody got time for that!
Instead, always push your cuticles back. You can purchase a cuticle remover gel (Sally Hansen makes a great one) to use as a treatment every once in a while to remove buildup too, which is what I do about once a week.
After your cuticles are pushed back, file your nails to your desired shape. File in only one direction along your nail edge. Filing is much better for nail growth than cutting your nails. So if you want those babies to grow and be strong, stick to the file! After filing I use a Polar Block (any nail buffer will do, but the Polar Block is my favorite. It's also only a dollar or less at Sally's Beauty Supply) to smooth the surface of my nails. This helps if you have ridges, peeling, etc. You just want a nice smooth base to paint your nails on.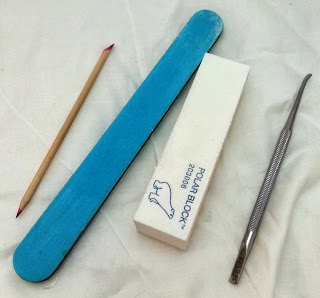 L to R: cuticle stick, nail file, Polar Block nail buffer, metal cuticle pusher
At this point I usually wash and dry my hands, and then you're ready to paint your nails! The first step of painting them is to apply a base coat. This will prevent nail staining from your polish, and will extend the life of your manicure. Right now I use Nutra Nail Bullet-Proof Strength as my base coat. I also really like Beauty Supply base coat (I get mine from Sally's). Your base coat doesn't need to be 100% dry before applying polish, so after I apply it to all my nails then I start with my color.
I
always
have a cuticle stick (pictured above) by my side whenever I paint my nails. That way if I get any polish on my skin I can use the stick to get it right off before it dries. This makes for much easier cleanup. Apply polish in thin coats. Multiple thin coats are much better and will actually dry faster than one thick, goopy coat. I usually wait about 5 minutes (they're slightly tacky but mostly-ish dry) in between thin coats, until I reach desired opacity. Then I finish it off with a fast-dry top coat. My entire life changed when I found out about fast-dry topcoats. I swear I used to wait HOURS before I felt my nails were dry enough to do virtually anything. Right now I'm using Seche Vite Dry Fast Top Coat. Sally Hansen also makes several varieties if you want something a little bit cheaper. There are several brands of fast dry topcoats though, so feel free to look around.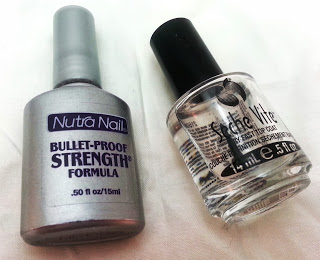 L: Bulletproof, used as base coat. R: Seche Vite, fast dry topcoat.
To get that perfectly clean, professional look, I do a bit of cleanup afterwards. I use a small paintbrush and a bottle of acetone, and clean up any mistakes around the nail. It takes hardly any time at all, but will give you a nice polished (hehe) finished look.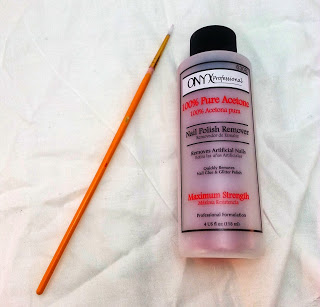 I use 100% acetone. It can be drying though, so keep up with your moisturizing!
That's my whole routine for painting my nails. It may seem kind of involved, but once you get the hang of it, it really doesn't take that long. And it will make your manicure look better and last longer. Also, practice definitely makes perfect! Feel free to get creative with your polish, and try new ideas out. I feel like my nails are an expression of creativity, which is why one of my hobbies is nail art. There's lots of inspiration on Instagram (my username is:
jesspaintshernails
if you're interested), pinterest, blogs, youtube, etc. Happy nail painting!!
Here are some of my favorite recent designs I've done: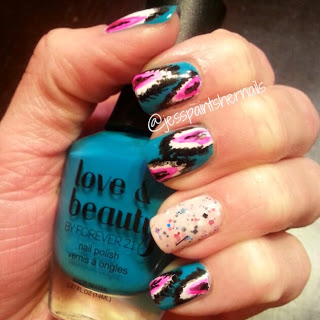 Ikat pattern with a glittery accent nail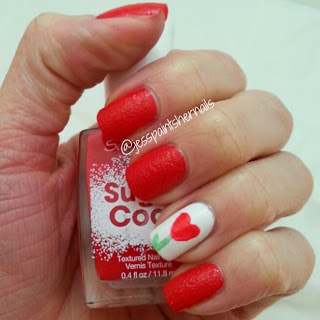 used a texture polish for this. i love hearts.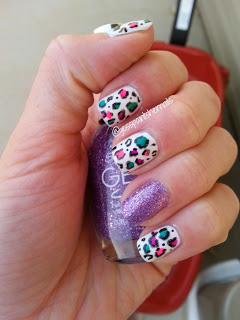 leopard print is always awesome in my book!
Thanks
Jess
for that post. I had no idea I shouldn't cut my cuticles, let alone how important and useful they really were. I highly suggest following her on
instagram
not only because she does some creative things, but she always is re-posting giveaways for nail care lovers.