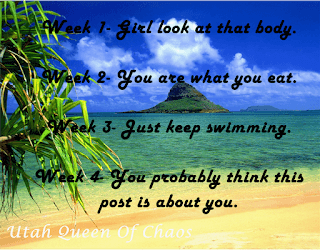 These past 4 weeks have pushed me further than I ever have been pushed blogging or writing. I have written at least 6 articles a week on multiple topics. I was surprised at how many topics I enjoyed writing about and will continue to write about, like exercising and food.
Also it's my favorite time of year. I love summer time and summer vacations! I never can fit in everything I want to do in those quick 3 months. I'm glad I did this 4 weeks vacation prep series, because I am that much more ready. Ready to relax on the beach, go swimming and look so hot this summer!
I just want to do a recap of some of my favorite articles.
Week 1- I love the article about
working out from home
.
I also loved the
guest post
from Discover Your Happy.
Week 2- The
guest post
from Christy Stevenson was amazing! There is a lot of great information and golden nuggets in there.
Week 3- My favorite thing about the guest post from
Bootz
was about maxi skirts. I love
maxi skirts
!
Week 4- I can't pick a favorite between
Get Waxed
and
NS Minerals
. I love what they both have to offer. Plus they both have a great giveaways going on for a few more days.
Hopefully you got some good tips to help you feel more ready and confident for a fun vacation, or summer in general.