It was yet another crazy day at our house. Kadan had basketball practice at 5:30, which is right when we usually eat. So we had an early dinner of grilled cheeses with out dad. After practice I thought some sweet crepes was a fun more filling snack. Now all my kids want for breakfast, lunch, dinner or snack is crepes. If its anything different (which it usually is) all I hear is whining thru the meal. There are not a lot of meals my whole family enjoys and I don't like making more than one thing for dinner. My kids don't understand how crepes can't be the solution to that problem every day. Kadan even told me he wrote in his journal at school, "My mom let me have an unhealthy dinner last night." Glad I'm doing such a good job giving my kids balanced meals!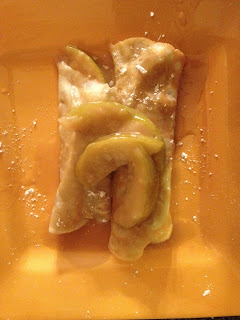 This is one of my favorite crepes recipes which was given to me by my sister.
Caramel Apple Crepes Sauce
1Cup packed brown sugar
4 Teaspoons cornstarch
1 Cup whipping cream
2 Tablespoons apple brandy, brandy or apple juice
1 Tablespoon butter or margarine
2 Cups of thinly sliced apples (I peel mine and I use green apples)
In a large saucepan stir together brown sugar and cornstarch.
Stir in whipping cream and apple brandy, brandy or apple juice.
Add the apples, I use green so they don't get as mushy when they cook.
Cook and stir over medium heat until thickened and bubbly,
then stir for 2 more minutes.
Enjoy on your crepes.