I love free events! Anything to keep my kids busy, is free, or keeps them from messing up my home I am all in favor for! One of our favorites is the Home Depot Craft. The first Saturday of every month they have a free kid's craft. This month being February was a wooden Valentines holder.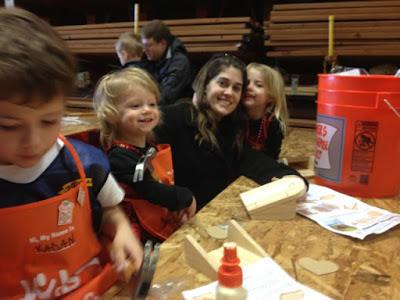 Kadan (almost 7) is my hands on do it your self kid. He can do a majority of the crafts with little guidance. Occasionally we make sure a few things are lined right or dad has to do some things that need a little muscle, but overall he does really good. Yesenia (4 yrs old) needs more help. She helps hold things, can tap in the nails half way, and is very good at being patient. When two parents are helping 3 kids, sometimes with fewer hammers than we need patience can be the biggest help of all. Adrianna (almost 2) can't really do any of the craft but she can have fun pretending she can. I help her hammer, or let her think she is hammering. When all is said and done I have 3 very happy kids. Not only did we get out of the house the kids have used their fine motor skills, learned the importance of following instructions, had family bonding time and in the end felt a sense of accomplishment. After completing their craft they get a pin to put on the free apron they also received.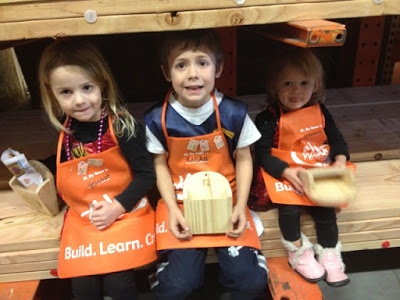 After the project we got to go home and paint them. Not only is this the messy part, it's the part where mom needs to practice her patience.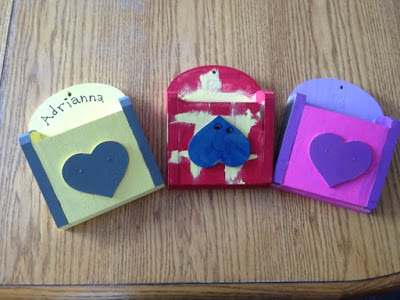 Here's the finished projects. Can't wait to write some fun messages for my kids the next few weeks and put the messages in them.
Click on any of the following Home Depot Links for more information:
Home Depot has donated a $15 gift card to giveaway. Please leave a comment below to be entered in the drawing. For more entries share this post on Facebook, Twitter, or on your own blog. Leave additional comments for each share. Giveaway closes on Sunday, February 10th at 11:59 MST. Winner will be picked at random thru random.org. Winner will be announced the following day.