Once a week my family enjoys doing something called Family Home Evening. That is where as a family we sing songs, have a spiritual thought, play a game and eat yummy snacks together. It's a great time for my husband and I to teach a concept we need to work on as a family or we sit back and watch the kids imaginations fly. For example Kadan was "lesson" this week. So he used his pokemon to show us that when we say hurtful things it hurts like these pokey pokemon, and when we say nice things it feels good like these soft ones. Every week re rotate who is in charge of what part of Family Home Evening. Here is a picture of our FHE chart.
This week's game got a little messy. We decided to play the flour game. I saw this on Pinterest and my memories playing it growing up came flooding in. You start out by packing a mug or teacup with flour, and turning it upside down on a plate.
Then with a coin on top everyone takes turns cutting it, trying hard not to let the coin fall. If you are the one that causes the coin to fall you get to fish it out with no hands. The laughs and fun come naturally in this.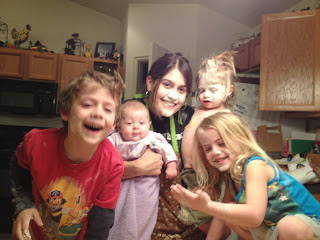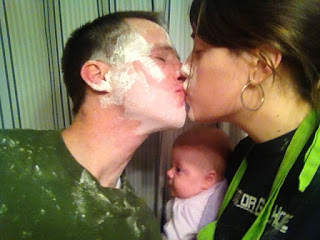 Here is a video of the end of Kadan's Pokemon lesson and some of our flour game: