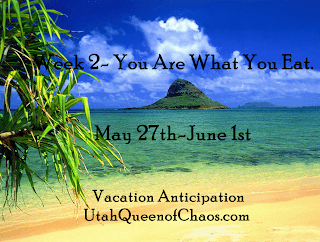 We previously got some great advice from Christy on eating healthier. Now it's time to go shopping, and replace our kitchen with better food. Wait isn't eating healthier more expensive? I hear this all the time. Yes pre packaged foods are cheaper, but they are just that CHEAP! If you are what you eat, then why do we eat such crap? Sometimes it's convenience and other times it's cost. I want to show you that eating better isn't always more costly.

1- Buy Things In Season
Yesterday I encouraged everyone to buy more fruits and veggies. They are cheapest when purchased in season. Be aware of what is in season and where is it grown. A few months ago a 10lb bag of potato's were $.99. At that price my kids were eating potato everything. Baked potatoes, funeral potatoes, hash browns, potato soup and tons more. Here are some charts of when things are in season.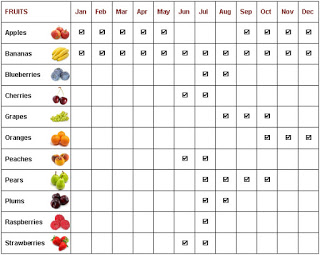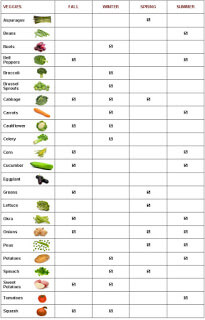 2- Price Match
There are lots of websites to help you price match. They do a lot of the leg work for you finding out where the best deals are. Then you go to a place that price matches like Wal-Mart and price match. Now I know sometimes these "cheaper" places don't have as good of quality produce, but the nutrients in the food don't change. Just make sure to plan on eating them quicker. I recommend using a website like
pricematchwithrachel.com
.
3- Budgeting
When replacing unhealthy foods for healthier options, we are also replacing where money is being spent. For example instead of white rice buy brown rice. Instead of paying for chips, soda and candy buy dehydrated fruits, nuts and juice. Yes some healthier options do cost more money sometimes, the idea is to spend the money elsewhere not in addition to.
Go out to eat less and cook more. Fast food and going out to eat adds up fast. Especially if you are trying to choose wisely from a menu. I'm amazed at how sometimes a salad for 1 person can be $7 or more. For that cost I could make a salad for my whole family. I know, I know, Café Rio and Olive Garden have a really yummy dressing though! Did you know that for the same price you can ask to buy just the dressing? Its true, next time ask your favorite restaurant how much for their salad dressing to go is, just be careful on portion control.
Do more cooking at home. Spend time cooking together as a family, not only is it more fun, but it encourages healthier eating in our kids. I am amazed when I find out how little some people eat as a family, and how much fast food they buy. My husband and I joke often about when we first got married all I could cook was Mexican food. It was what I grew up on and loved, even when we went out to eat I chose Mexican food. So each year of our marriage I chose a new food to focus on and learn. The first year was chicken. Ways to buy it, prepare it, cook it and so on. Then I did ground beef, steaks, fish and this year is pork. One year I did cakes, that was a yummy and fattening year ;) Just like exercising, try new things. With the Internet (and pinterest) who needs a library of cook books? You can look up almost any recipe, or what to cook based on what ingredients you have on hand.
In the end eating healthier isn't always more money. Besides if you don't take care of your body now, you'll spend more in health bills in the future. Plus foods that actually fill you like lean protein may cost more, but you won't find yourself snacking as much because you are actually full. Tomorrow we will talk about healthy snacks and curbing cravings.