Have a special trip or vacation coming up? Make sure to plan ahead for yourself. I know that when we go on trips we make sure to have a bed, food and fun planned. We take care of who has the kids, travel and the essentials. I want to make sure you are ready so that you can enjoy YOURSELF and make the most of your special vacation.
I am finally getting to go to Hawaii this summer. I have planned a four week series for you to follow along while I get ready. Four weeks of making sure you not only make the most of any trip, but that your comfortable and happy. Who wants to spend lots of money on a trip and then be self conscious because we don't have anything cute to wear? Or what if we don't make the most of our beach time because we are uncomfortable from not planning ahead. Follow along the following weeks so that you will be fully prepared for your vacation or just for summer in general. Even if you don't have anything huge planned and just want to get ready for summer itself.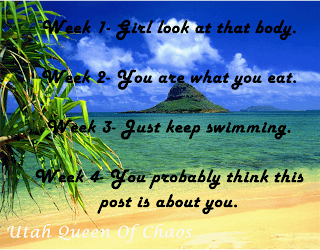 Week 1 is May 20-25th. This week's focus will be working out and exercising.
Week 2 is May 27- June 1st. We will focus on healthy eating, and foods to help burn fat and increase muscle.
Week 3 is June 3rd- June 8th. We will be focusing on the clothes and swimwear.
Week 4 is June 10th- June 15th. This week is the little things we sometimes forget. Like waxing, pedicures and things like that.
Come back Monday, May 20th and follow along, I have lots of idea's, tips, guest bloggers and giveaways!