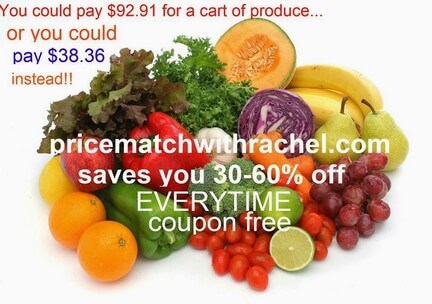 Many of you may or may not know I love to find good deals. I especially love when other people take the work out of couponing, price matching, and deal hunting for me. When we went from 2 working parents down to 1 I decided I couldn't make money any more, but I can find ways to save money. That's when I stumbled across
pricematchwithrachel.com
.
Price match with Rachel
is my go to, bookmarked website. I never check out at the store without looking what's on sale first. Even if I am stopping for a second or splurge buying, I make sure I am getting the most for it before I check out. I just click on the bookmark on my smart phone and check while I'm in line to check out.
I love the way it is divided up into sections. Although I frequent the dairy, meats, fruits and vegetables sections the most often. That is usually where I save the most money. If you have read any of my
healthy eating articles
you know we eat a ton of fresh produce in my house, so if I can get it for less than even better!
She is even hosting a free seminar this Wednesday the 22nd.
It's at
Stevens-Henager College Business TA's Provo/Orem
from 6:30-8pm in the auditorium. This is a great way to get free tips on organizing, shopping, price matching, and other ways to save time and money on grocery shopping. It's an unfortunate thing we have to do as mom's, and often too. I'll try any tip at least once if it will make my shopping experience faster or less stressful!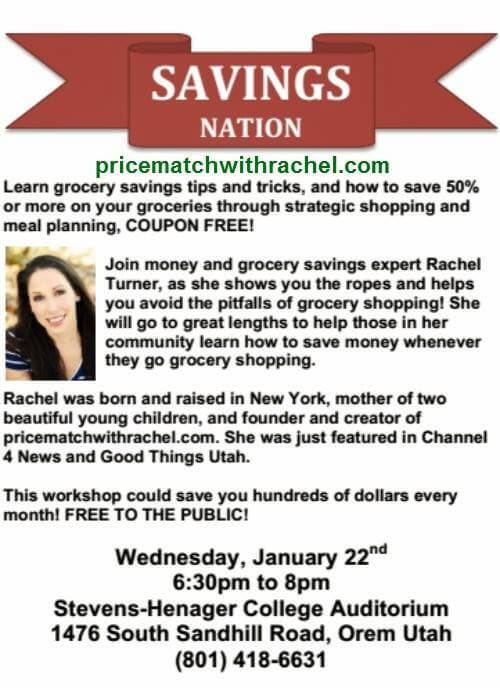 You can also like her facebook page for other seminars, deals and giveaways at #/rachelspricematch That is how I found out about the 5 for $1 avocado sale recently. I stocked up and froze many of them. I did that the last time bell peppers were on sale for $.25 each too. I sliced, diced and froze them. Now I have plenty for fajita's, stir-fry's, soups, and quesadilla's. If you can't make it this week, make sure to like her facebook page for the next one.