I was excited to sit down with Heidi and talk about
Thrive Life
, which was once Shelf Reliance. I love their new name and the way they have branded their products. Each letter in thrive has a different color that goes with a color coded category. As a person who loves to organize and loves smart marketing schemes I love this part. Thrive has over a 100 different products to purchase.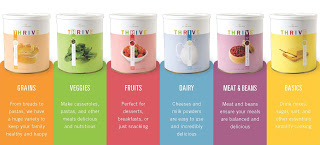 Thrive life is a great source for emergency preparedness products. One of the main things I spoke to Heidi about is there freeze dried foods. Not only meant for emergencies, but for every day use.
How is freeze drying different than dehydrating?
Dehydrating is done at a very high temperature and takes a long time. Not only does the product shrink in size, but loses nutrients.
Freeze drying happens within hours of being picked and happens quickly. Freeze drying not only locks in the nutritional value but the flavor, size and color. Because they stay the same size, it makes it nice when adding freeze dried food to a recipe. Freeze drying removes more water than dehydrating giving the food a longer shelf life. Most Thrive products last 25 years unopened, and average 1 year after being opened. They even have a place for you to write when you opened it. That way you don't question if it's still good and you know how long you family goes through it.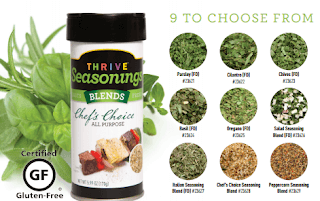 One product I was intrigued by was their spices. I was always told that spices don't have a long shelf life. I love and use cilantro and basil a lot. The idea of it lasting 25 years unopened and 1 year opened is very appealing. A must have for my food storage.
On top of all the basics Thrive has sauces and express meals. The shelf life of the express meals and mother sauces are 10 years. I love the idea of quick meals and soups. I always like to have quick meals for days I'm not in the mood to cook, or haven't gone shopping.
They have so much to offer for people building their food storage. I asked Heidi where she recommends starting.
1- Top 10 meals.
Make a list of the 10 things you cook the most and start there. Buy the ingredients for those meals first. Either splurge and buy all 10 meals worth of food or start with just what is needed for 1 meal.
2- The Q.
Thrive has a great way to get what you need little by little. Just like your Netflix Queue you make a list of what you want and need. You can customize your Q in several ways. Then you set a monthly budget, and receive items from your Q right at your door. Rachel from pricematchwithrachel.com recommends taking the money you save from price matching and using it towards building your food storage supply.
3- Host a party.
If you host a show you get all kinds of deals and products.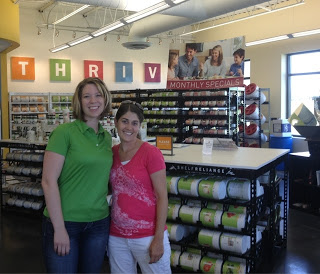 Heidi (Thrive Life Consultant) & Jennifer (Queen of Chaos)
I highly suggest getting in touch with Heidi to learn more about what Thrive has to offer you. Not only are Thrive's products cheaper if you go through a consultant, but she can help you get the most out of your products. She sometimes has giveaways and free classes of her own so make sure to follow her
website
,
blog
,
pinterest
,
facebook
or
twitter
.
I just scratched the surface of what intrigued me personally the most about Thrive. I am sure as I use and love their products more I can share more in the future. Make sure to get in touch with Heidi for a more in depth conversation of what she and thrive has to offer.
If nothing else let your mouth water as you go through their yummy catalog.
Heidi has donated a pantry can of freeze-dried sliced strawberries to give away. Use the rafflecopter below for your chance to win. When the giveaway ends the winner will have 48 hours to respond to my email, or I will have to pick a new winner. I hate having to pick a new winner, so make sure you respond to my email.
a Rafflecopter giveaway