When we went to
Hawaii
we had to leave 3 of our 4 kids with loved ones. Of course this is the longest I have ever left any of my kids behind. I was so worried. I typed up every little thing about each kids favorites, foods, and routines. I was mostly worried about my 2 year old. What would my kids do with out me for a whole week?
Turns out it was more like what will I do with out my kids for a whole week?! Everything we did I couldn't help but think how my kids would love it. They were just fine with out mom. Now there were a few things I did to make this a lot easier, besides leaving them with family that I trust completely.
I wrapped presents for each kid for each day I was gone. I labeled each one for each kid and each day of the week. Of course they had little reminders about being good on them. Granted I bought all the items at the dollar store. Some of them were a package of 6 bubbles for a dollar wrapped individually for each kid.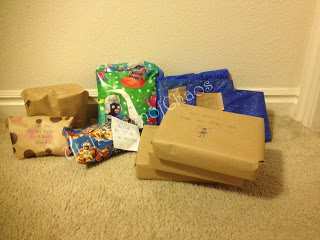 The kids loved them! The "sitter" had to set a time each day to open them, otherwise they tried to get into them first thing each morning. I had in my mind that they would get opened at a time of desperation each day, but it worked out better this way.
The kids really enjoyed having something special from their mom and dad every day, and the "sitter" appreciated something that was time consuming.