I was super excited when given the opportunity to review the new film Freetown. I have been following and supporting the progress of the movie over the past few months and am so excited for the release this week. In fact it is so good I am bringing to you a week of Freetown! I have this review posting today (obviously) and then 4 more days of posts. I promise you are going to see this movie and then want more. More history of the facts, more history of the making of the movie and more about the cast. So come back on April 8th and the following 3 days to see what cool things I learned about from speaking to Adam Abel and Garrett Batty! (and I'm ok with you being jealous that I interviewed them ;)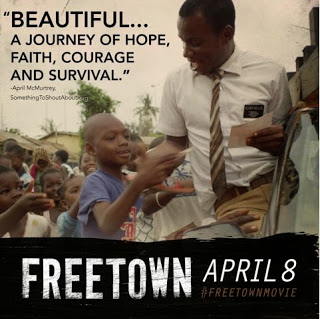 Freetown is a film similar to The Saratov Approach in the sense of missionaries going through struggles in life and relying on their faith to get through them. It is also based on a true story.

The movie still has suspense, hope, and remarkable odds to be beat.

However this movie has its own unique story to be told.
It's is about a group of missionaries in Liberia during 1990 when they were in the middle of their own civil war. A group of missionaries set on a journey to save one of their own from the ultimate persecution.
The movies suspense is very come and go. Moments wondering what's around the corner, or are they go to make it through the next check point, will their car and budget allow them to be delivered to their mission home in Freetown? There are also lots of moments of breathing sighs of relief and laughs of comedy. There's a lot of scenes I love but one of my favorites is when the missionary takes some passed out guards beer and says, "what? I'm saving lives!"
I love historical fiction. It is one of my favorite things to read. So the story and history in this was fascinating to me. How even though this happened 15 years ago how common this is even in our world today.
This movie grips you from the go. You are fascinated with the way the story unfolds. You find yourself fearing for and cheering for the characters instantly. I loved the cultural music, clothing and even scenery is fascinating. The shots of the little red car among the beautiful foliage of Africa makes me feel like I'm there watching it for myself.
The importance of this movies success depends on how opening weekend does. So please go see it this week! Request it at your local theater. Share the trailer. Share this review. Share Freetown.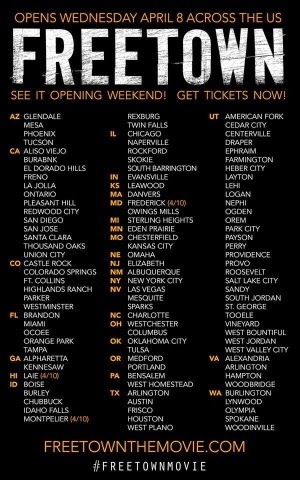 Go see it, share it, like it! #Freetown