I love soup. Any time of year it's my favorite thing to eat. I must get that from my mom, because she cooks soup a lot too. It's great for sharing recipes. Not so great when your baby brother comes over crying, "I'm so sick of soup, I can't eat any more soup."
Recently I made a baked potato soup. I love this recipe because I purposely bake too many potatoes just so I can make this soup.
Baked Potato and Bacon Soup
4 Tb Butter
1/4 C Flour
2 C Chicken Stock
2 C Milk
2-3 Bay leaves
1/4 Tsp Pepper
1/2 tsp Salt
4ish Medium Cooked Potatoes
Melt butter then stir in the flour. Then whisk in the chicken stock and milk until smooth. Add all the other ingredients. When I do my potatoes I usually add them half mashed and half diced. It depends on how you like it. Do you want it chunky? Then dice them. If you want it smoother you can always throw it in a blender when you are done. Simmer for 10-15 until soup thickens. Then add add Hormel bacon or
Hormel bacon pieces
.
Other optional toppings are sour cream, cheese or green onions.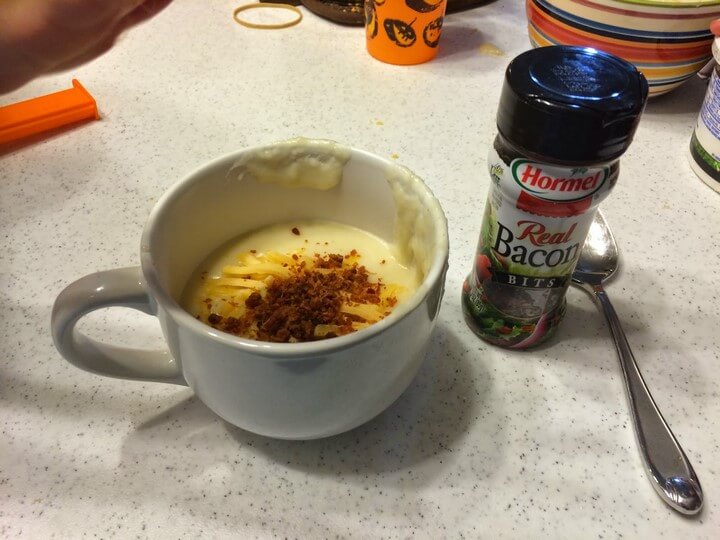 In the spirit of full-disclosure, I've partnered with Hormel Foods as part of the Hormel Foods Extended Family Blogger Program. Throughout the year I'll be receiving product, coupons, giveaways and promotions. However, no payment was given or expected for posting about the program, and as always, all opinions given here are fully my own.