A little while ago my friend brought over this delicious popcorn to book club. I thought I'll just have a little bit, Wrong! I was hooked, It was surprisingly good. I've had cinnamon bears on my shopping list for a few weeks now and kept forgetting to get them. Last week I saw these cute heart shaped cinnamon bears and was so excited to finally make it.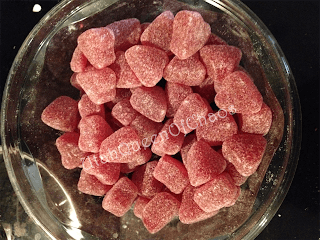 It's really easy to make and would be so fun for a family night or date night with a cute love/Valentines movie.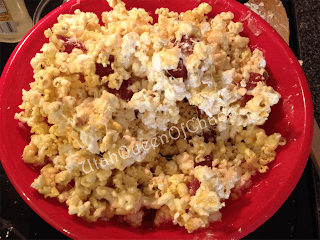 1 cup butter
1/2 cup Karo syrup
1 1/2 cups sugar
1 tsp. vanilla
1 1/2 cups mini marshmallows
1 1/2 cups cinnamon hearts (or bears*)
2 regular size bags light or plain microwave popcorn (or about 18 cups popped)
* The
original recipe
chops the bears in half. I liked the hearts whole cause they were cuter, so you could do it either way.
Pop the popcorn and dump in a large bowl. Make sure to pick out any un popped kernels (this is a great job for little helpers.) Melt the butter, Karo syrup, and sugar in a pot. Bring to a boil and let boil for about 3 minutes. Turn off the heat and stir in the vanilla. Pour over the popcorn and stir. Stir in the cinnamon bears and marshmallows.
I boiled mine for closer to 4 minutes and it made the popcorn a little harder when it was all said and done. Next time around I want to stay closer to the 3 minute mark to make it more gooey.
How easy is that? Thanks oneshetwoshe.com for this yummy recipe.