Our family loves to be on the go. We look forward to car trips, outings and lots of adventures. Which also results in lots of eating and snacking on the go as well. I am always on the look out of good healthy snacks that we actually like. Especially things with protein. I was really looking forward to review the new Hormel Rev meat snacks.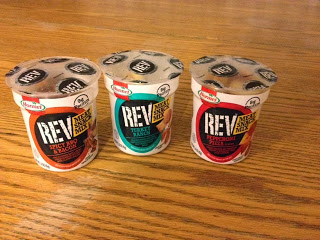 Hormel has these new Rev Meat Snack Mix's that I love. I tried 3 different flavors. The Spicy BBQ & Bacon, Pepperoni Pizza, and Turkey Ranch. They also have Honey Mustard Bacon (One I can't wait to try) and a pepperoni and cheese snack mix. Each of them having 8-12 grams of protein.
The Spicy BBQ and Bacon tastes just like it sounds. It had a nice spicy BBQ flavor and lots of bacon in it. The BBQ comes from the BBQ seasoned bagel chips, the kick is from jalapeno bacon and it also has sourdough pretzels in it as well.
The Pepperoni Pizza Snack mix has cheese crackers and parmesan, tomato herb bagel chips, and pepperoni. Really cute little pepperoni to be specific. Perfect snack for that picky eating kid that loves pepperoni pizza.
My favorite was the Turkey Ranch Meat Snack mix. It comes with cracked pepper pita chips, ranch seasoned breadsticks and smoked turkey. It was addicting. I couldn't stop just after one cup, I had to eat two!
Where can you find some of these yummy filling snacks? Right now they are at several Smith's in the state of Utah selling them. Here are a few of the Smith's that you can purchase them at:
Smith's in Pleasant Grove
210 East 700 South
Smith's in Orem
45 S State Street
Smith's in Draper
212 E. 12300 S.
Smith's in Sandy
10305 S. 1300 E.
Smith's in Salt Lake City
3470 Bengal Blvd
Smith's in Ogden
4275 Harrison Blvd
I also have several $1 off coupons I can give out. That would make them probably just a little more than $1 each. If you are interested in trying one and want a coupon then leave me a comment below of which Smith's you would go buy it at, and which meat snack sounds yummy to you. I'll pick a few comments at random on March 1st to give them out to. Make sure to include your email so I can contact you.
I am curren

tly a member of the

HORMELTM

REV

TM

Meat Snack Mix Program and this post is part of my involvement in the Group. While Hormel Foods provides me material and necessary resources to complete various activities, all

statements and sentiment in Utah Queen of Chaos are my own.