Days 3 and 4 the doctor, nurses and friends all said were going to be the worst. I was gearing up for it. I made sure every 3 hours on the dot I would alternate his Tylenol and Motrin. I tried to keep him hydrated best I could. Honestly, my son did fine. I know every kid is different and mine is a trooper.
There were a few moments where I noticed he got quiet and just kind of sat there watching a movie. At that point I would ask him, "Is everything ok? You just got really quiet." He would then tell me it hurts a little. Not a lot, but more than before. I would make him a slushie, and check the time. Usually that happened right before he was due for some more medicine. He did say he was more uncomfortable than day 1 and 2, but not in real pain, thank goodness. Since he was eating, sleeping, and drinking that played a big part in it.
When he went to bed on day 4 I didn't give him any more meds till he asked for it or needed it.
Keeping my son from being too active was hard. To keep him down so he wasn't jumping around too much I decided to do something fun. The girls bought and wrapped him 2 movies before his surgery that they had picked out. 1 of them was the first Ice Age. We had them all except the first one. My son went through an Ice Age stage about when the 2nd one came out on DVD, so he has a passion for them. Under the circumstances I decided to have an Ice Age marathon. Normally sitting around watching 4 movies back to back would be a no go, but what else were we going to do?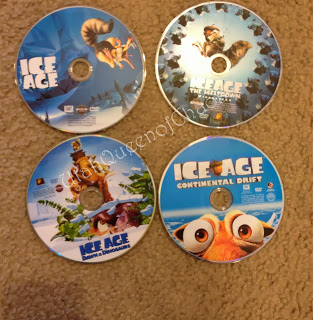 We had popcorn, my son had popsicles, Dad may or may not have fallen asleep, in the end it was a fun day.