Have you ever had one of those days where you feel like you have spent the whole day in the car and running errands? Well today was one of those days. Not only did we wake up to non-stop pouring down snow, but I also woke up not feeling well.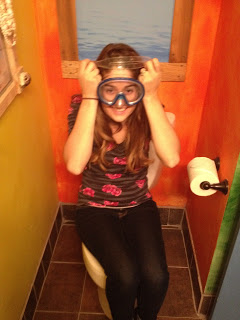 Luckily Steven only had to go into the office for a few things and was able to remote in from home so I got his help for the day. Yesenia's preschool teacher's baby has been sick with RSV so she stayed home so not to risk getting our baby sick. On top of that lately it has been so cold that I have been putting all 3 girls in the car just to drive Kadan to school around the block. It breaks my heart to let him walk in -2 degree weather. So with Dad helping drive me around he was able to help drop off Kadan on our way out.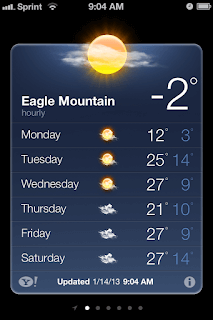 This was from a week ago, not today when it was snowing.
First errand was my Dr's office to get an antibiotic prescription. Then we went back into the snow to stop at Steven's office. Luckily because of the snow there was no clients coming in so the girls and I parked ourselves in dad's office for a bit. While dad finished up some work, I blogged and couponed and the girls colored and snuck treats. By now we are all starving so what quick place has monopolized on kids wants? McDonalds! Sure enough we went into the slick drive-thru for the kids favorite chicken nuggets.
Where I live on Tuesday's Walmart will double any coupon up to a dollar. I have been meaning to go for a while but I don't care for the Walmart out here and I miss the one I use to go to. It was better stocked, less busy and had an easier set up if you ask me. Since we were in the area and many of my coupons expire this month that was the next stop. Just like when I go to the office with my husband I get to see what he does best, when my husband goes with me to the store he gets to see what I do best; SAVE! So we spent the next hour with him ooing and ahing at all the savings and deals I find. This trip I saved $31.80 in coupons and about the same in price matching. I try to only buy stuff we actually use as well, such as diapers, wipes, Tide, yogurt, garlic bread, nuts, salsa, syrup, Nesquik, medicines and cleaning supplies. (For my local friends here is my plug for my friends price match website
www.pricematchwithrachel.com
. It takes a lot of the leg work out of couponing!)
After Steven pulled up the car and loaded it we went to the bank, whom hadn't shoveled their parking lot. The snow was so thick for a second I thought we were going to be stuck there. By this time Adrianna has fallen asleep in the warm car. Steven had to pick up something at my parents house, and I had to get dance shoes for Yesenia. The specialty store that sells them has strange hours and whenever I was nearby it they were closed. So as much as I wanted to head home I had to stop while they were open. Yesenia was so excited for her real ballet shoes. Walmart and Targets dance shoes are more like slippers and it's hard to see her feet in them. She wore them to bed she was so excited!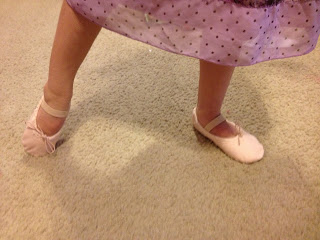 Finally we were 10 minutes from home then I realized we forgot to pick up my prescriptions. After we picked up Kadan from school we unfortunately still had to spend the next 45 minutes to go into town and get my prescriptions. Once we got home Steven had to shovel the driveway for the 3rd time today. At this point we are both too tired to cook dinner so all the money we saved on groceries was spent on ordering pizza. Boy was it yummy!!