My daughter is very much like I was growing up, very messy! She has the messiest room in the whole house, because she can play with the tiniest and most random things. No matter what I hide, donate or throw away she will find some way to make a mess of everything. So I decided if we redid her closet it would be easier for her to clean it up. Before the closet just had one high shelf and a clothes bar under it. We needed to lower the bar to her height so she could hang up all her dresses while she changed multiple times throughout the day. Then we added 2 shelves. We used the kind where you could raise and lower the shelves to whatever height you needed.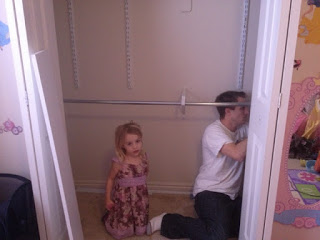 When I looked at the plethora of girly closet ideas on Pinterest I decided mine wouldn't look like any of them. Most of them had cute matchy, matchy cubbies or boxes. Most talked about how inexpensive they were too. Well I have ugly not matchy, matchy tupperware at home, therefore making them free. Also many of them had stuff on them for the sole purpose of decoration. My daughter can't have decorations cause she would just play with them and it's just more stuff I have to clean.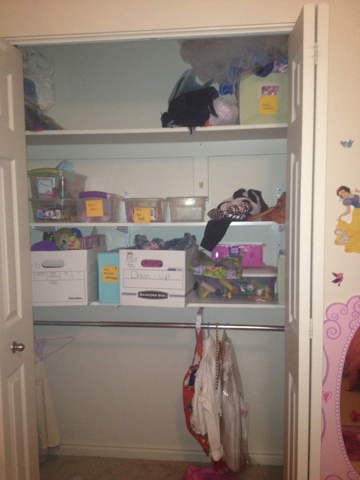 If you want to talk about how much it has cost me to make her a princess room let me add it up. The pink paint I got on Ace's free quart paint day, which did mean waking up early on a Saturday. The princess wall decals I used my Disney movie rewards points in order to get. Her princess mirror and Tinkerbell light were a gift from her cousin who is out growing out of princess to quickly, and her toddler princess bed was $20 on craigslist. The shelving was given to me from my Grandpa before he moved so all I needed was the screws. Which I spent $7.99 at Ikea for a huge box of all different sizes. So it may not be the cutest, cleanest or magazine worthy, but Yesenia LOVES it and it fit my pocketbook. I don't think it gets any better than that. Now I just need to be brave enough to refinish her dresser, wish me luck.