I love Cinco De Mayo! Growing up my parents would always have a fiesta. I thought with today being Cinco De Mayo and this month being national salsa month I should post something with salsa!
How many of you use the Ibotta app? I have for probably a year now and have gotten over $50 back in rebates. This week you can get a rebate on a salsa! Herdez has some good salsa too. I have tried a few different kinds and like them all. I used their chile verde salsa for the recipe below.
This is something new I made today just for the fun of it. I don't eat cucumbers or radishes often, but in this its not even noticeable.
Combine all the ingredients and enjoy! Try it with chips, on eggs, on a taco, or even with some avocado would be so good! You could grill the Pineapple on a grill or in a sauté pan with some oil oil to help bring out the flavor as well!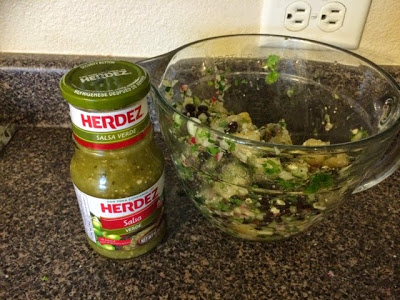 If you follow
this link
to Herdez Website you can take a quiz about Cinco De Mayo and be entered to in some Herdez food or even a trip to Puebla, Mexico. Puebla, Mexico is the reason we celebrate Cinco De Mayo. It was there that the Mexican army beat the french trying to invade. This gave the Mexican army a much needed Moral boost and helped slow the french armies down. Puebla Mexico is also where Mole Poblano originated from. Crazy new things you learn today?!
In the spirit of full-disclosure, I've partnered with Hormel Foods as part of the Hormel Foods Extended Family Blogger Program. Throughout the year I'll be receiving product, coupons, giveaways and promotions. However, no payment was given or expected for posting about the program, and as always, all opinions given here are fully my own.