Did I just read that right? "The Hungry Games?" That must be a typo! Nope , it's not. I went and saw "The Hungry Games" over the weekend at the one and only Desert Star Theater.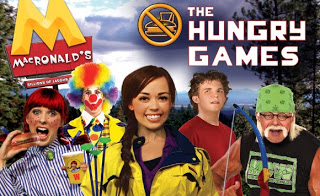 I think this will be on my list of top 3 shows I have ever seen at the Desert Star. So I wonder, what makes this show so much funnier than any others? Here's why I think it's amazingly witty:
1- I think the writer, Bryan Dayley, did a great job writing it. This is the foundation of any great performance. He not only knew the basis of the parody, but the audience and actors. I love the songs in it, they are so well balanced. They bring in not only a part of the story, a part of the character and yet some random stabs at typical desert star humor, ie. Utah life, politics, etc. All while being sung to a well known tune. Here is a fun video clip of how to write the perfect Desert Star show.
2. A great show needs great actors! Even with a great script if you don't have gifted actors, you're screwed. The actors did a phenomenal job. Not only are they great singers (Especially Jason Craig West) but are very versatile. Playing roles based on popular characters, but with a Desert Star twist, there is a lot that they have to portray. They have great facial expressions, dramatic voices, good comedic timing, and reading the audience. I love how they make each other laugh on stage as well.
3. Desert Star productions are usually based on popular and well known books or shows. Even if you haven't seen or read the show they are imitating you always have several good laughs at the Desert Star. However, if you are familiar with the basic story that is being parodied, you usually get more laughs out of it than those who aren't familiar with it. I enjoyed The Hunger Games books, and movie, making this more enjoyable for me. If you haven't read them though, don't let that stop you! My husband hasn't read them and he loved the show. He too said it was one of the better shows he has seen there in a while.
So what is this raving show about? It's about an evil fast food owner Donald MacRonald and his daughter Little Debbie who try to get more publicity to their "tolerable" food. So they create the rigged Hungry Games. The contestants are the heroine Katnip Neverclean, her odd sister Grimrose Neverclean, the almost invisible Pizza Malarky, and Gail Rodriguez. All trained by the one and only Haymitch Hogan. As they journey to be the last one standing there are many fun adventures along the way. Including the evidence of Mormons- "They buried their food as part of a ritual called 'Food Storage.'"
Following the show their Olio is based on songs of comedy. It's a mix of some favorite comedic songs through the years. As a Hispanic my favorite being the song about Mexicans and the border. As a little taste of what you will get here is a clip of me and my sons favorite Olio pieces performed during an Olio, "Defying Gravity."
The show plays till November 8th. So be sure to book your show today! The closer it gets to the close of the show the busier it gets. Their box office is great to work with. I recommend opening up the seating chart when you call them or just
order your tickets
right online.
The Desert Star is giving away 2 tickets to this fabulous production! Just use the rafflecopter below to enter. Please note that the Desert Star is in Murray, UT making this giveaway for Utah residents only!
a Rafflecopter giveaway
This giveaway opens 9/18/13 at 12:00 AM and closes 9/25/13 at 12:00 AM. It is open to Utah Residents only. Winner will be notified within 48 hours. Winner must respond within 48 hours or a new winner will be chosen.