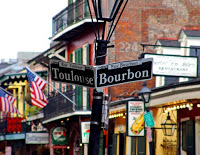 We heard a few weeks ago that we would most likely be going to New Orleans for the post season. I was thrilled. I posted it on my facebook, texted my family, called my mom, practically yelled it from the rooftop like in those funny Japanese shows that you can't understand. My sister went there along time ago and had a grande time. Ever since then I have wanted to experience the culture. My husband use to live near there as a child and has small memories. The idea of working two more months was looking that much brighter.
That is until we got the call that New Orleans was out and Long Island was in! Which is just as exciting, only it's just as exciting in the opposite direction of home. I will save the email my sister sent of all the funs things to do for another time. Delete the New Orleans sites links from my favorites, and tuck away my notebook of must sees for another day.
The kids are excited with idea of living on an island, I can't wait to go see a show and be a New York Superstar. New York has also always been a dream to visit for me. So in two more weeks off we go to follow the yellow brick road.