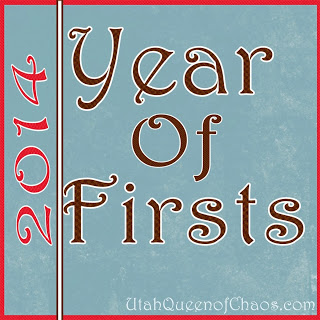 This is my first posting regarding the new series #YearOfFirsts. I was so excited to do my year of firsts, why not start it with a bang? I have always wanted to go to one of those Ice Castles, sure enough this year in Midway, Utah there is one.
Right now my girls love the movie Frozen. We went and saw it on
Christmas Eve
, and the girls got the sister dolls for
Christmas
. I decided to tell them we were going to see Queen Elsa's castle. They were so excited. My 2 year old was a little bummed when Elsa and Anna weren't actually there.
I had planned to go during the weekend, but hadn't had a chance to tell my husband. I was pretty surprised when he came home with tickets to the ice castle, almost like he had read my mind.
One of the tricks to taking kids out to something like this is to be prepared and plan ahead. This is an event outside, best seen at night, up the canyon, and made of ice. It's going to be cold. We made sure to dress our kids in two layers. Long sleeved shirt and short sleeved shirts, as well as tights or pajamas under regular pants. Then I set out a sweatshirt and coat for everyone. When getting together gloves, hats, etc. I like to line them up oldest to youngest. Hats first, then gloves and possibly scarves. Then I put the gloves and things inside their hats. All that goes in a bag (usually with 1 extra pair of mittens and hat) in a grocery bag tied off. That way no one gets into it till it's handed out. Then when we arrive at our destination I hand them out to get suited up. I didn't do snow pants this time around and the kids were fine. However if they are going to be sitting on the ground or on things for pictures a lot I would do snow pants. That way their bums don't get wet.
The next important thing is timing, and we timed it just right. We arrived around 4:30, which was perfect. When you arrive , there are 2 lines. One for those who already have tickets and those who don't. GET YOUR TICKETS IN ADVANCE! The line to purchase when we arrived was approximately a 20 minute wait, when we left around 6:30 it was easily an hour long line. That is not a good way to start out the evening if you have kids especially if you're out in the cold. 4:30 was perfect not only because less people when we arrived but we got the best of both worlds. We got great pictures in the light, and the kids could see better, but then we watched the sun set on the ice. Once the sun goes down you can see all the cool lights behind the ice, making them glow and look very magical. They will stamp your hand for reentrance if you decide to leave and come back.
If you are claustrophobic like I tend to get, I would avoid some of the walkways. There were a few times where I had to calm down and not panic. There are some areas you can walk though that have several ways to walk around, with no clear one direction path. Which is fine, it just means little traffic jams. No better place then in an ice castle to get stuck and enjoy the beauty and patterns all around. If you are claustrophobic then you can potentially panic. It's not enclosed all around, but sometimes lots of people and being stuck not able to go forward or backwards can cause a little worry. I was worried my kids would start to complain at these moments, but they did really well. We would point out cool things like what would happen when the ice from above would drip on other ice. Or how do you think Queen Elsa made that part? What did she sing when she made those stalactites?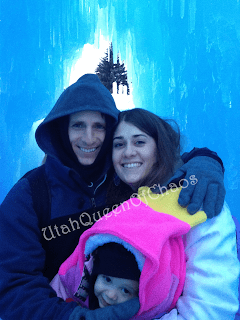 Overall we loved it. I almost want to go back with just my husband for a fun date night. I didn't realize they had an outdoor ice rink right next to it. I'm thinking hot cocoa, cuddling to stay warm, holding hands ice skating, and walking through the beautiful ice structure, how fun would that be?
We got awesome pictures, and had a blast starting off our year of firsts. Although this was our first time at an ice structure like this, it's for sure to be a tradition from this point forward.
It's only open till February 28th, so go see it while you still can.

Have something you did to start off your year of firsts? Then add my button to your blog post and link it up below. I will check, however, if your post does not have my button I hate to be a meanie but I will delete it. I've already had a few people tell me how excited they are to get idea's from others so please join in on the fun and share your firsts. Want some idea's? Check out my
Year of Firsts Page
for more idea's. Who knows, maybe I'll even add yours on there, for others to try.