I keep saying I will try and do
Wiffessionals
alphabet dating but never do. I decried to finally jump in and plan a date with my husband around the Letter "I"
We started out the night with a trip to The Sweettooth Fairy. They had advertised this month was Mexican themed cupcakes. I had a hard time deciding, trying to be good and limiting my sweets right now. I chose a dulce de leche cupcake. Dulce de leche has becoming more and more popular. Too often people get it confused with plain caramel. I wanted to see for myself if it was real dulce de leche. Sure enough it was real, and it was real delicious.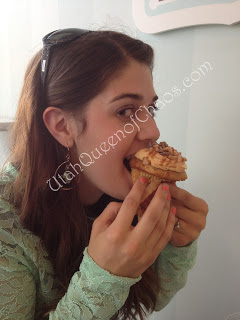 I also got to try the Mexican hot chocolate cake bites, and boy were they yummy. Only a $1 a bite isn't too bad on your pocket either. It was very creamy with a small subtle taste of Mexican chocolate. It too was real Mexican Hot chocolate and not just hot chocolate with cinnamon. Thanks for using real Mexican flavors, it was delicious. I may just have to make a trip every May if they keep making some of my favorite flavors.
Next we went to a concert I predicted years ago. I grew up and near the lead guitarist of Imagine Dragons. My senior year of high school he played his rendition of the star spangled banner. It was not only a tearful performance but the moment I knew he was going to make if big one day. Not to mention the multiple bands, orchestra's and many instruments he played. When my husband and I were engaged I predicted that we would one day see him play live from a very successful band. (I also told him about two drummers will most likely play professionally too.
Drummer #1
&
Drummer #2
) Finally we got to fulfill that prediction, 9 years later.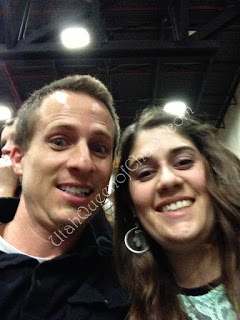 Here are some highlights from the concert.

Last we headed home. Since I already had so much chocolate I was good and had ice water, while my husband had ice cream. That's his favorite.
Thanks Husband for an
I
ncredible "I" letter evening. It was nice to
I
nhale the fresh rain outside too ;)