Ever get tired of making zucchini bread after zucchini bread? I know I do, even though I love it.
I had a friend share her zucchini brownie recipe with me along time ago, and I still make it every year. Here it is: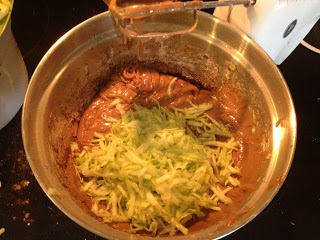 2 C sugar 2 1/2 C flour
1 C oil 1/2 C milk
3 eggs 1 tsp vanilla
1 tsp salt 1/2 tsp baking soda
1/3 C cocoa 2 C shredded, peeled zucchini
Mix above ingredients. Pour unto a large greased cookie sheet. Bake 350 Degrees for 25 minutes.
Frosting:
1 Sq. margarine 6 Tb milk 4 Tb cocoa
Mix in saucepan and bring to a boil
Add:
1 lb Powdered sugar and 1/2 tsp vanilla
Beat well and spread on brownies (is runny). Can top with chopped nuts or coconut if desired. Cut in squares.