It's that yummy time of year where you get the rewards of harvesting a garden. Or maybe you are even luckier by receiving gifts from neighbor's gardens. If you are overwhelmed with garden goods and need more recipes like I always do, I thought I would share. This week I will post some of my family favorite fresh from the garden recipes.
Here are a few of my favorite tips of incorporating garden produce in basic meals or for future meals.
1. Slice and Sauté
My favorite thing to do with usually summer squash or zucchini is to slice it and sauté it. Make sure to season those bad boys with at least salt and pepper. If you watch cooking shows like I do than you know how often they say season everything. I usually use garlic salt and crushed pepper, but you can use any spice combo you like. Then in a hot sauté pan pour a little extra virgin olive oil and sauté them. I like to pick my squashes when there are still smaller for this easy and healthy side. Some weeks we eat this almost daily.
2. Freeze
I love to cut up vegetables and them freeze them. Just last week red bell peppers were $0.24 each so I
price matched
them locally and bought several. Then I made fajita's, sliced some for hummus, and froze the rest. I cut them in strips and laid them on a cookie sheet in the freezer. After they had frozen I put them in freezer bags, that way they don't freeze in a huge clump. Then this winter when I want bell peppers for most likely my Tortilla soup, I just add them from the freezer.
You can also grate them and freeze them. Pumpkin and zucchini is what I freeze the most of. I use a food processor to grate them, then I freeze them in 2 cup increments. Why? Most bread or other recipes I use ask for 2 cups.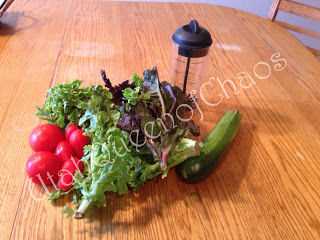 3. Salads
Part of the reason why I have a garden is to help me eat healthier, and I love salads! The nice thing is you can put anything you want in them. Even if you didn't plant lettuce of some kind, it is usually pretty inexpensive. Then you can add whatever you had from your garden and some light dressing. Try making your own dressing. This is one I got that is suppose to be like Olive Garden's salad dressing. Although I don't think it is, we still really like it!
Olive Garden salad dressing:
1 packet Good Seasonings Italian Dressing
(Ingredients needed to make dressing; oil, water, vinegar)
½ tsp. dried Italian Seasoning
½ tsp. table salt
¼ tsp. black pepper
½ tsp. sugar
¼ tsp. garlic powder
½ tbsp. mayonnaise (no Miracle Whip, please)
¼ cup olive oil 2 tbs. white vinegar
1 ½ tbsp. water
Come back tomorrow for my husbands favorite pasta dish!