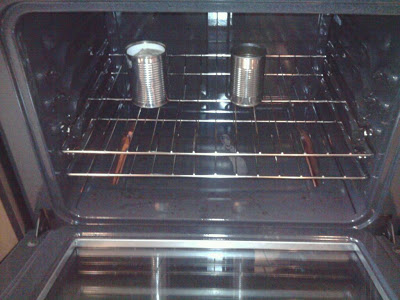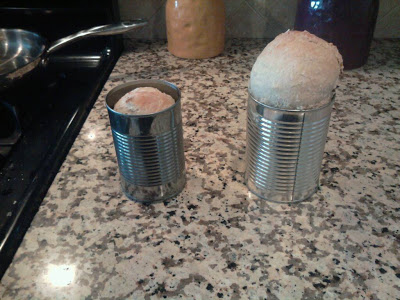 While being snowed in we may not of had milk, bread or cheese we had plenty of food. Although my kids live off those things. The lack of cereal, pb&j's, quesidilla's, grilled cheese, and chocoalte milk was the end of the world!
I have been raised my whole life with the concept of food storage. Since we have been moving so much I have had to untrain my brain to buy extra.Usually if a recipe called for corn i would buy several cans of corn, not I have to only buy what I have planned for the week.
kadan was dieing with no bread. PB&J's are his favorite staple. So I decided to make bread. Although I didn't have a bread pan, I thought why buy one when we would just move in about 6 months? So I did what any other young mom would do, call her mother for suggestions. The end result was bread from a can. Thanks to her idea and my ingenuity we actually got to have PB&J's for dinner. What a treat my kids thought that was compared to oatmeal, stir-fry, tacos, bean burritos, soups and egg everything (we did have 2 dozen eggs.) They were in bread heaven. My husband and I also thought taste of warm fresh bread was refreshing as ever.
Then after 6 days of no milk (this was devastating for our 2 yr old) Steven finally decided to backpack the 1.5 mile trip to the store. Luckily he ended up getting a ride from a nice neighbor. Now I am also doing what I hated that my mother did; 1/2 dry milk mixed with 1/2 real milk. The kids haven't noticed the difference, and its stretching our only 2 gallons of milk. This is also cause the store had no milk so he ended up buying the last of it from the gas station.
After all this I have much thanks to give. Thanks Mom for many lessons on food storage. I am thankful for still having running water and electricity. Thanks Santa for the wii this Christmas. Thanks strange neighbor for the ride to the store. Plus many lessons learned and patience tested.
Published with Blogger-droid v1.6.7