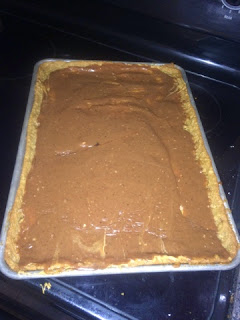 Who remembers the cafeteria peanut butter bars? I do, and I didn't even have school lunch very often. When I did I picked either a day where they had pizza or peanut butter bars. Can you imagine had the school put those on the same day, it would have been genius. School lunch sales would have hit all time highs. I decided my kids needed to enjoy a little Delicious nostalgia from my youth. I looked all over for the right recipe, and I think I found it at
www.triedandtriedagain.blogspot.com
. Not too hard, but would be just as delicious as I remember them being. I think I found it. It actually was a pretty easy and quick recipe. My kids even had a blast helping make them.
Lunchroom Chocolate Peanut Butter Bars
1 1/2 C Flour
1¼ tsp. Salt
½ tsp. Baking Soda
¾ C Butter -best if at room temp
¾ C Sugar
¾ C Brown Sugar
1 ½ tsp. Vanilla
1 1/2 C Creamy Reduced Fat Skippy Peanut Butter (split )
2 Eggs
1 ½ C Quick Oats
Preheat oven to 350 degrees.
In a small mixing bowl, mix together flour, baking soda and salt.
In a large mixing bowl, cream together butter, sugars, 3/4 C Skippy peanut butter, eggs and vanilla until light and fluffy.
Gradually add dry ingredients, just until incorporated.
Then, s
tir in the oats.
Spread onto a greased 11 x 15 Jelly Roll Pan (cookie sheet).
Bake for 12-15 minutes, or until golden brown.
Cool for 10 minutes.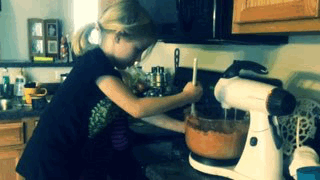 ½ C Butter (1 stick)
3 ½ C Powdered Sugar
2 T Cocoa
¼ C Milk
1 tsp. Vanilla
The frosting is a two step process. First, whip the remaining ¾ C Skippy Peanut Butter until it becomes lighter colored and fluffy. Carefully spread the whipped peanut butter over the pan cookie.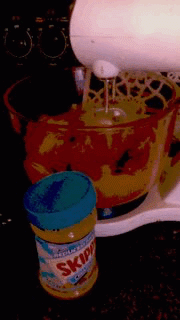 Then, add butter to a small sauce pan and melt the butter. Add the milk and cocoa. Cook over medium heat, stirring constantly. Heat just until boiling. Remove from heat and add vanilla. Then, gradually add the powdered sugar. Stir until thickened. Pour over the peanut butter and gently spread over the cookie. Cool completely, and slice into bar cookies.
Then pick you could pick out one of your favorite books from elementary school and have story time with delicious peanut butter bars. Perfect blast from the past.
In

the spirit of full-disclosure, I've partnered with Hormel Foods as part of the Hormel Foods Extended Family Blogger Program. Throughout the year I'll be receiving product, coupons, giveaways and promotions. However, no payment was given or expected for posting about the program, and as always, all opinions given here are fully my own