I love to support local companies. Especially when they sell clothes. Since I have gone back to work part time and I feel like I need new clothes for work I was thrilled to have another online clothing company brought to my attention.
Sweet Salt Clothing
sells modest and fashionable clothing.
I loved scrolling through their many pages of options. hey have tops, sweaters, skirts, scarves, and more. They had a lot to choose from, however, don't make the same mistake I did when you first take a look. The first time I looked through the first page of options this is what I saw: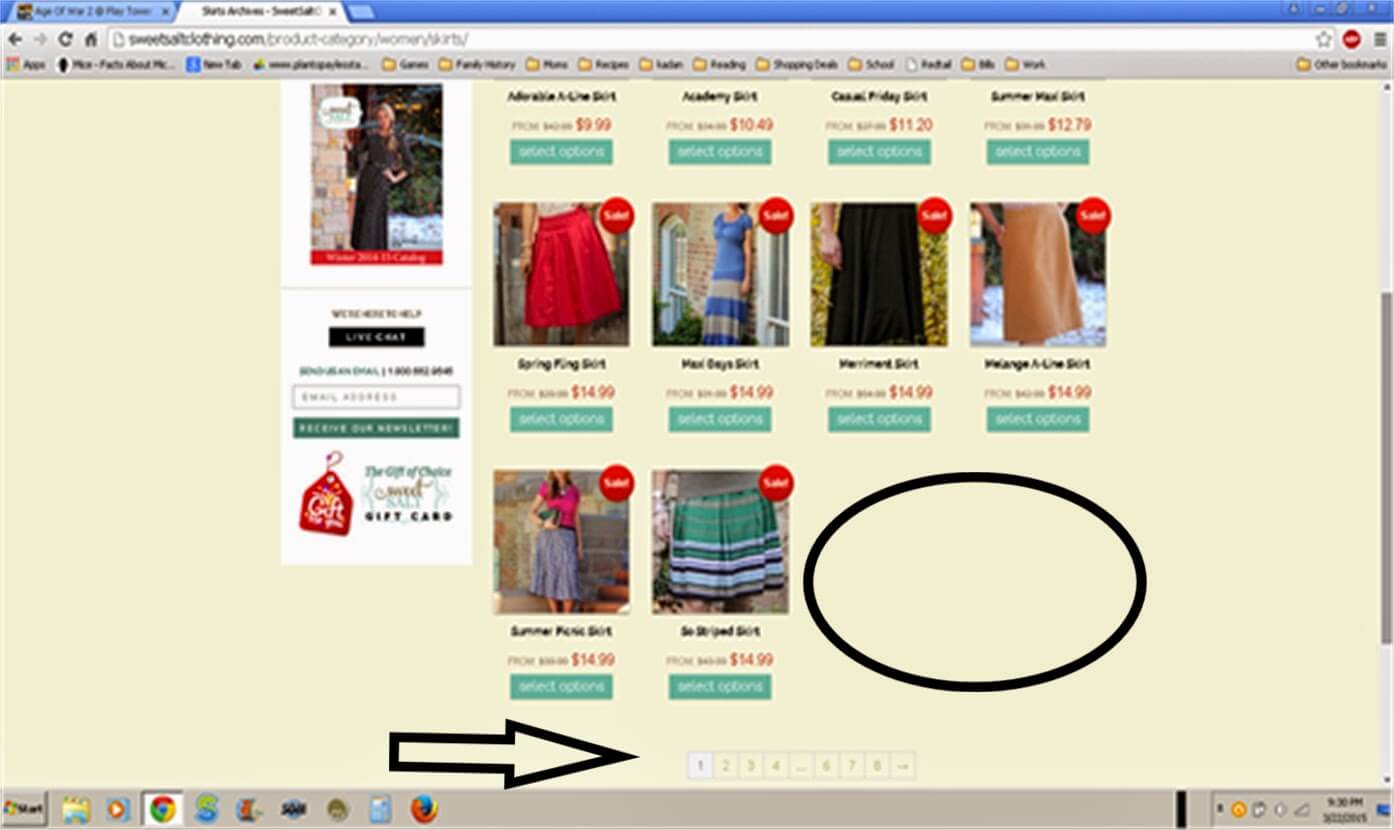 When I saw that the last row didn't have the same amount of options as the first few rows I assumed that, that was all there was to choose from. When I took a second look I noticed the bar at the bottom where the arrow is pointing. It is really light and I obviously didn't notice it at first. Once I did I was surprised with plenty of pages to view and decide. So don't think you have hit the last page of clothes, there should more pages to view.
It took me a few days to decide on the perfect outfit. Not only did I want just the right thing, but I knew I would be showing it off to all of you. One issue I often have with my height is length when it comes to skirts. I can wear some maxi skirts as dresses, and some knee length skirts to my calves. I loved that this website had length in inches on them. Which ultimately helped me when I couldn't make up my mind between 2 skirts. I asked if the lengths were accurate regardless of size, and they said yes. Maybe a few skirts on the largest sizes would be slightly off, but otherwise they should be accurate (mine was, and yes I measured it.)
Another thing I loved was their return/exchange policy. Also because of my size I feel like I am between 2 sizes and I ordered the wrong size on this cute peter pan top. When I got my shipment in the mail it came with a return slip so I did't have to pay to exchange it. I just wrote down on the slip I wanted a different size and quickly got the correct one mailed back to me. It did come back with another slip to mail it back if needed, fortunately I didn't need it. You can check out their fabulous
Quality Guarantee
.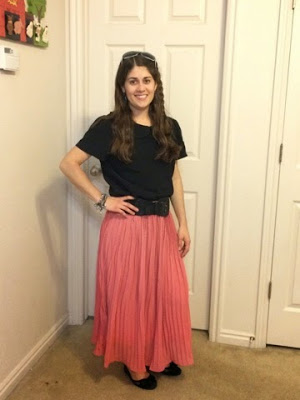 In the end this is what I got. I love this peter pan top, because the sleeves are a little longer and not the girly cap sleeves. My hair covered up some of the detailing on the top, but you can see it better in the above picture. I almost chose a cute polka dot skirt till I saw this one last minute. I saw this skirt on someone else recently and fell madly in love with it. Only I knew if I came across it, it would be way too long for me and I would have no hope in hemming it. So when I saw it would be the perfect length I couldn't resist. I added a chunky black belt and some black ballet slippers. Perfect for a day at the office, church or a date with my husband.
Another thing they have that I couldn't resist are cute
little girl shrugs
. I don't have a picture yet cause I am saving them as gifts for my girls, but they have some as low as $2.99! I just noticed today they had some cute plain raspberry or black
cardigans
for $3.99 as well, so go check out their cardigans for your daughters. A black sweater is a must in any girls closet if you ask me.
Go to
sweetsaltclothing.com
and sign up for their newsletter. Like their
facebook
page for deals and promotions, I promise you won't regret it. They have their spring cleaning sale going on right now too! Plus till the end of March you can use the code
queenofchaos15
to save an extra 15% off any regular priced items!