I kept seeing posts for an outdoor twister, paint twister and shaving cream twister. I decided to combine the idea's into one.
First I cut out a circle out of cardboard. Well as circular as I can get it, let's be real I failed cutting in school.
Some tips. Watch your spacing. Too far apart and it's hard to stretch from one color to the last. Too close and it will be small. I made a double sized one since I had lots of people doing it at once. I suggest do a row of twister and make sure your arms spread from one row to to the last. Also my green paint in a little so you may want to try a more brighter green if trying to decide which one to use.
Then I Moses shaving cream with food coloring. I bought the cheapest shaving cream at Walmart for $.98 a can. One can did about 8ish circles.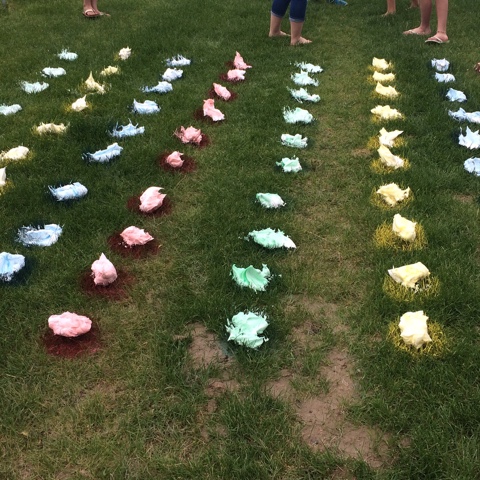 Once the shaving cream is added be careful it can be very slippery. Then we just aged twister normal. When we were done I ran the sprinklers and the shaving cream washed away. The paint will stay for some fun twister games till it goes out. The kids live to play twister on just the paint with neighbor kids.
You could buy paint and put a little on each circle as well. Hope you have fun this summer with this twisted game of twister.
Cost:
4 cans of paint $8.50
6 cans of shaving cream $6
Fun memories $Priceless