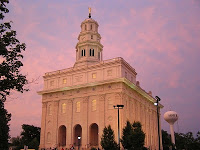 This time we decided to stop in a city called Nauvoo. It has a lot of
LDS
historic sites there and we were so close we couldn't pass it up. It may have added an extra 2 hours to our over all trip but it was worth it.
We stayed in a hotel right across from the Mississippi river. We started out by going to Carthage jail, this was a great teaching and spiritual time for our family. We were the only one on the tour and so I didn't have to worry about our children distracting others. It was very nice, that alone was worth the side trip.
Than we went to some of the old historic buildings and saw how things were done. We went to the blacksmith shop, saw how they baked bread, made candles, made rugs and Kadan's favorite, made ropes. It was a rainy day so we didn't do as much as we could have. The temple was unique and absolutely beautiful. Although we lost the pictures from this trip it was amazing. Kadan still has his rope that we made as a family. It reminds us how we can't be as strong if we do things by ourselves, but as a family we can be extremely stronger.
The kids favorite part were the bathtub pools. We had a jacuzzi tub in our room and they thought it was our very own mini "bathtub pool." Later that evening I go to give the kids a bath when I notice Kadan had a weird round piece of skin coming off his belly. Or was it? I call Steven in to come take a look, sure enough it was a tick. His first tick, well our first tick. He was fine up until we got it off and he realized it was a bug bitting him. Dad telling him it was sucking his blood didn't help either. So that is partly why we moved East, to sell pest control. They have a lot more bugs!